Student Stories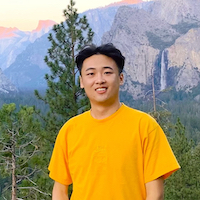 Internship experience – making autonomous vehicles safer and more secure
There's much more to autonomous vehicle security than locking a car door. Kaiyuan Zhang, a 3rd-year computer science Ph.D. student joined NEC Labs America as an intern to help advance research around autonomous vehicle security.
---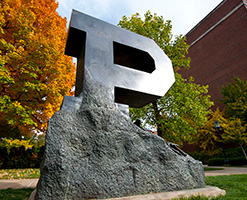 Software engineering capstone projects demonstrate hands-on development experience
Diving in and developing a good idea takes confidence. Purdue Computer Science students possess that trait in abundance. CS 40700 is the capstone course which offers a hands-on development experience to seniors in the software engineering track of the computer science major.
---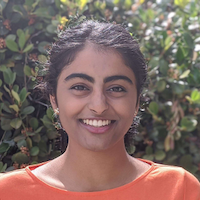 Pursuing computational biology research, hoping to change the way we fight cancer
As a freshman, Simran Kadadi was looking for a research angle that was connected to biology, yet would complement her computer science background. She didn't know it would eventually lead to work in a computational biology lab, an award for her work and ultimately a plan for the future.
---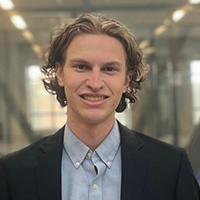 Coltin finds meaning in well-being research
Research on human well-being begins with a difficult question: How does one define well-being, and how can well-being be measured? Eli Coltin a triple major in economics honors, computer science, and data science at Purdue University, uses his research interest to exploring the applications of quantitative analysis on data involving quality of life and out-comes of human decisions.
---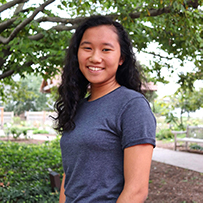 Driven to overcome failure, leading and developing her next giant leap
Victoria Liu, a senior and computer science major in the software engineering track has enjoyed success during her time at Purdue University. She co-founded a new organization on campus and she forged a difficult time that taught her how to overcome failure.
---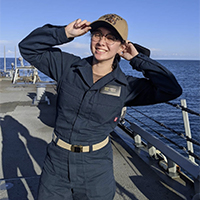 An inclusive environment leads to growth and opportunity
Marie Oberlin chose Purdue for its reputation in computer science and engineering, ultimately realizing she had more of an interest in software than hardwarve, she applied and was accepted as a computer science major. From her hometown in Honolulu, she decided to take a small step on the way to her next giant leap.
---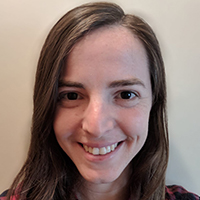 Landing a summer internship for international grad students
Getting some real-world experience as a graduate student can be incredibly valuable to prepare you for life after grad school. Whether you are exploring the million dollar question of "Industry vs. Academia" or you want to get some additional experience, going for a summer internship can be a first step in that direction.
---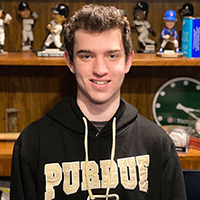 Purdue data science student ready for a full season of statistics from the ballpark
After a year that many would consider a nightmare, a full season of baseball is back. That means a dream opportunity for Data Science major, Jeremy Frank, who's developed quite a following.
---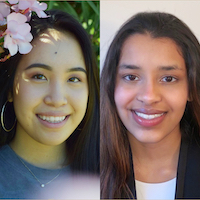 Entrepreneurship, connection & empowerment
Undergrads, Miranda Chai and Aarushi Upadhyaya, are both engaged in the entrepreneurial culture of Purdue. With their background in computer science, they are co-leading The Womxn Program – an Anvil initiative that strives to build a community of women and non-binary individuals who are passionate about entrepreneurship and female empowerment.
---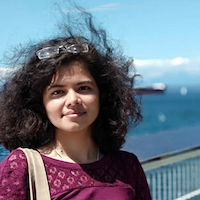 When asking newly minted Dr. Mahak Goindani what her favorite accomplishment at Purdue is, she's quite gracious.
---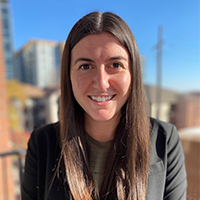 Sasha Kipnis, a senior majoring in computer science, won the merit-based scholarship Homecoming Pillars of Excellency in the Service and Leadership pillar. "Technology is an ever-growing field and it's important to me that everyone, regardless of their race, gender, or socioeconomic status, can be a part of it."
---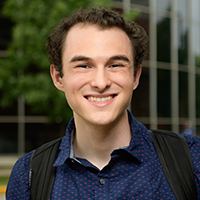 "I knew I wanted to study computer science, so it was a pretty easy decision for me. Purdue's program has a solid ranking, and having in-state tuition was an added bonus," says Noah Alderton, a senior who is majoring in computer science, data science and political science. 
---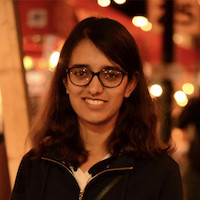 A new face liveness detection system prevents 2D spoofing attacks on smartphone face authentication systems using only the smartphone's front camera.
Researchers from Purdue Computer Science recently developed a face liveness detection system for smartphones that protects facial authentication systems from various media spoofing attacks.
---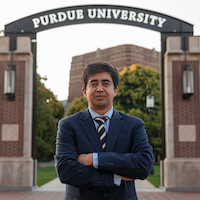 Tough challenges built his resilience, Servio Palacios earns his PhD in CS
One of the newest PhD graduates from Purdue CS, Servio Palacios feels immense pride for Copan Ruinas region of Honduras. Palacios reminds us, "The Mayans invented the zero independently around 4 AD." He added, "It's logical for me, since we invented half of the CS building blocks, to study Computer Science at Purdue University."
---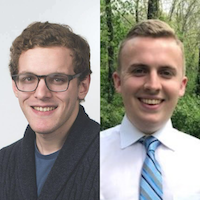 Dev Pool at Purdue Computer Science - TAs Jonathan Grider and Logan Kulinski talk about their experiences
Development Pool is a centralized assignment and content creation and testing group utilized by Purdue Computer Science Faculty and Instructional Support Staff. The TAs in the Department of Computer Science work on a variety of courses with instructors to generate and test content that will eventually be used for classes like CS 18000.
---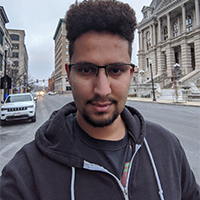 Bader AlBassam: "I'm surrounded by some of the brightest people in the field."
Bader AlBassam, winner of the Graduate Student Board's TA of the Year Award, 2020 is a PhD student whose research is in the area of software and systems security. "We strive to ensure that our impact is transparent."
---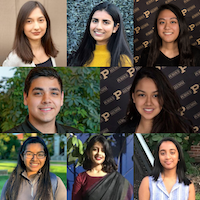 AMCS inspires members to excel academically and grow professionally  
The Association of Multicultural Computer Scientists aim to create a special community to foster equity within the Department of Computer Science. By providing resources and guidance through the organization's events and programs, the AMCS aims to increase retention, support, and pushes members to excel academically and grow professionally.   
---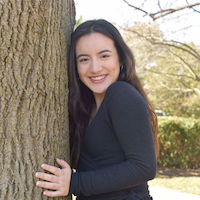 Romero reflects on being away from campus – quoted in NYT
Andrea Romero, a computer science major was quoted in the NY Times article, "The End of College As We Knew It? " "I look forward to my return to 'Ithaca'," Romero wrote, likening Purdue's campus to Odysseus's destination. "Until this day arrives, I have learned that it is valid to feel disappointed and fortunate at the same time."
---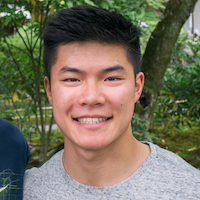 Volunteering for research leads to first paper
Andrew Chu is an undergraduate computer science student performing research with Professor Berkay Celik. "My advice to other undergrads – reach out to professors doing interesting work. Purdue's CS faculty are world-class leaders in their respective areas, and all who I've talked with are very open to discussing ideas with students."
---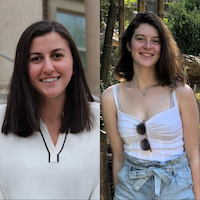 Two students from Purdue Computer Science tapped for Mortar Board
Congratulations to Sasha Kipnis, a senior majoring in computer science and Megan McDuffie, a senior majoring in physics and minoring in CS and math, on being tapped for the Mortar Board Class of 2021. 
---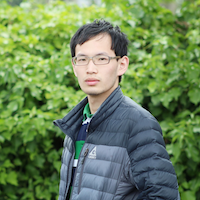 Excelling in coursework leads to research opportunities
Xinping (Kelvin) Zhang is an undergraduate computer science student pursuing research with Professor Tiark Rompf. "Passion and investment in a class will not only earn you a good grade but also build a deep understanding of course material – or an awesome research experience!"
---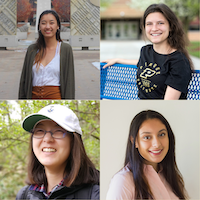 Any student in the Department of Computer Science can benefit from the Computer Science Undergraduate Student Board (USB). The USB offers services to help computer science and data science students so they may achieve their best in CS courses. An all female officer board was elected for the 2020-2021.
---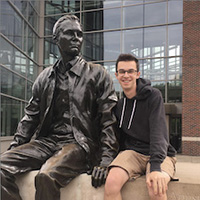 Making an impact in food insecurity
Drew Thoennes, pursues a double major in computer science and mathematics. He makes an impact through his everyday actions in student organizations – one being the s the director of donations for the ACE Campus Food Pantry.
---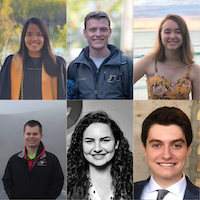 Friendships and Collaboration at Purdue Computer Science
At Purdue Computer Science, students can form lasting relationships with colleagues. A group of students that met in 2016 during the CS Bridge Program, came back together to deliver their senior software engineering year project in the Spring of 2020.
---