An academic triple threat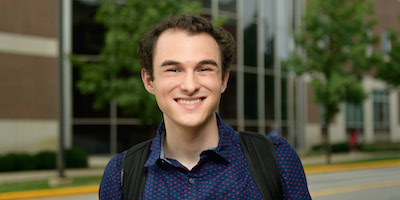 Noah Alderton first considered studying computer science at Purdue University when he was a high school junior in Fishers, Indiana. However, he likely didn't foresee himself pursuing three majors. 
"I knew I wanted to study computer science, so it was a pretty easy decision for me. Purdue's program has a solid ranking, and having in-state tuition was an added bonus," says Alderton, a senior who is majoring in computer science, data science and political science. 
"I had built out my schedule early on to determine what classes I needed to take over my four years here, and I quickly realized I had a good amount of wiggle room due to taking several AP courses in high school," he says. "Therefore, I had ample space to pursue something else."
As a freshman, Alderton heard about the University's new major in data science and saw it as the perfect complement to computer science. The two programs have some curriculum overlap, and Alderton liked the idea of being one of Purdue's first students majoring in data science.
An active member of the speech and debate team in high school, Alderton initially planned on adding just a minor in political science to his college curriculum. He was reluctant at first to pursue a third major, not wanting to add general requirements for the College of Liberal Arts to his required courses in the College of Science. Eventually, he heard about Degree+, a Purdue initiative that provided him a streamlined path to pursue a third full major in political science.
Alderton connected all three academic pursuits while taking Introduction to Political Analysis, taught by then-doctoral student Mintao Nie. "We started a conversation about how I was studying computer science, and he asked if I was interested in doing undergraduate research. It was always something that crossed my mind but I hadn't yet pursued," Alderton says.
Nie was collaborating on research with Eric Waltenburg, a professor of political science, and they invited Alderton to join them. They then set out to create a model for predicting senators' sentiments during Senate Judiciary Committee hearings for Supreme Court nominees.
"We collected transcript data to try and figure out what factors might lead to a senator acting in a certain way," Alderton says. "It was great, because it combined everything I'm interested in — computer science, data science and political science. It seemed like the trifecta right there."
As a result of this work, Alderton won first-place honors from the College of Liberal Arts for his oral presentation during the Purdue Undergraduate Research Conference. Alderton believes hands-on experiences like this have enhanced his education, and he encourages prospective students to explore their own vocational interests as early as possible. 
"I didn't know how to code when I was in high school. It wasn't until I came to Purdue that I began to understand it," Alderton says. "If your high school doesn't offer a club that interests you, create one. Surely there are other students who are equally interested. Foster connections with those who have similar passions."
Now, as he prepares for life after graduation, Alderton hopes to explore computer-related opportunities. 
"I've always planned on going into software engineering or something similar," he says. "I also hope to earn a master's degree at some point, likely in computer science." 
By Matt Schnepf