Mindset, focus and support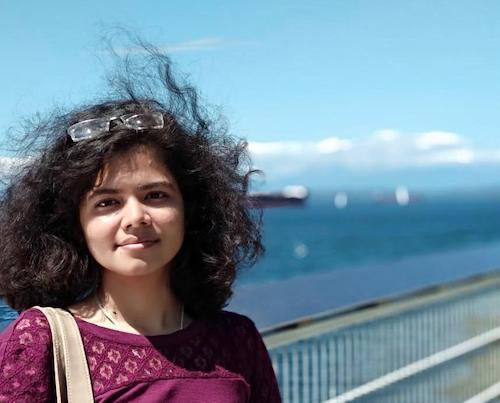 When asking newly minted Dr. Mahak Goindani what her favorite accomplishment at Purdue is, she's quite gracious. She speaks of the people at Purdue Computer Science and how they made her feel welcome and shared their knowledge. She also speaks with gravitas about working with her advisor, Professor Jennifer Neville – she not only learned valuable lessons in research and the profession of computer science, but also about life in general. 
 
Speed
The one thing Mahak fails to mention is her speediness in earning her PhD. While the average person takes between 5 - 6.5 years to complete a PhD in computer science, Mahak managed her preliminary qualifying exams, research, dissertation, and defense in just 4.5 years.
 
How did she do it? Mahak credits a stringent mindset for her swift success. 
 
"First and foremost, I think it is the mindset that is the key to achieve success in any dimension of life." She also believes that because it was her dream to achieve PhD, she could work diligently towards her goal with full dedication and discipline.
 
"I believe that following a proper schedule is very important, as that allows me to be more productive and attentive. There are many challenges during one's PhD and it's crucial to get the moral support from family or friends who motivate you to stay optimistic in the phase of uncertainty and stress." 
 
Personally, Mahak shares it was her circle of support who inspired and encouraged her to keep moving forward. "I will always be grateful to my family for bestowing their love and support to help me grow stronger and determined." She adds, "Professor Neville guided me through my research, and with her technical expertise, experience, and valuable guidance, it became feasible for me to successfully finish my dissertation." 
 
The business of getting a PhD
This impressive and clipping speed absolutely did not cut into quality. In her area of research (artificial intelligence and machine learning, specifically, reinforcement learning, and social networks), she and Professor Neville realized that there had been a substantial amount of research conducted to detect malicious activities. However, not much had been explored to mitigate the negative aspects of their impact. 
 
Mahak chose to focus her dissertation on developing solutions to utilize reinforcement learning. Traditionally, the concept has been used to determine strategies in games. Mahak realized that it is also possible to develop solutions to utilize reinforcement learning, encouraging prosocial behavior among people for a variety of real-world applications. 
 
In her thesis, she defined social reinforcement learning for systems that involve a large number of agents, typically with sparse interactions between them, with the objective to encourage users to perform certain tasks, in order to optimize a collective network goal. 
 
Favorite experience at Purdue 
"One of the invaluable experiences I had at Purdue is being able to connect and work with phenomenal people." 
 
Mahak looks back on the career-shaping interactions she's experienced at Purdue Computer Science, "I have interacted with the world-class faculty and been able to learn from their abundant wealth of knowledge and experiences."
 
"Purdue has been a sort of home for many students from different countries across the world." Mahak adds, "It has been a worthy experience for me to exchange ideas with some of the best minds and build great companionships that I will preserve forever."
 
Hands down, Mahak's favorite experience has been working with Professor Neville. "I will always be grateful for her valuable advice and teachings," Mahak adds, "she taught me a great deal about research, careers, and life in general, I will always cherish the insightful discussions and opportunities to learn."
 
How Mahak's work impacts your online social life
From her research, Mahak notes that so much of a person's daily interactions with social media create an opportunity to learn and improve upon the way information and choices are provided to users.  
Because social network interactions continually advance into media, information, and online shopping, there is an opportunity to learn from interactions and user feedback to improve the overall system. Do you have a family member that constantly shares fake news? Those types of interactions can be discouraged using social reinforcement learning as a general framework to facilitate modeling in a dynamic environment. Using interactions and feedback, it not only applies to discouraging fake news but encouraging reputable news to be shared instead.
 
Next up
After completing her PhD, Mahak plans to have a career that combines software engineering and research, building products that create a positive social impact. "I want to utilize AI for the greater good of the society." Mahak adds, "My deep desire is to harness the potential of machine learning and AI to develop healthcare products and applications, especially for the disabled and underrepresented communities."