Brand Guide
Purdue CS Logos
Download the approved Purdue CS logos from the Purdue University brand website. You will need to enter your BoilerKey.
Visit the Brand Guidelines for Purdue's official colors, typography, graphic elements and brand essence.   


---
Email Signature
Visit Purdue's email signature generator to create your custom signature.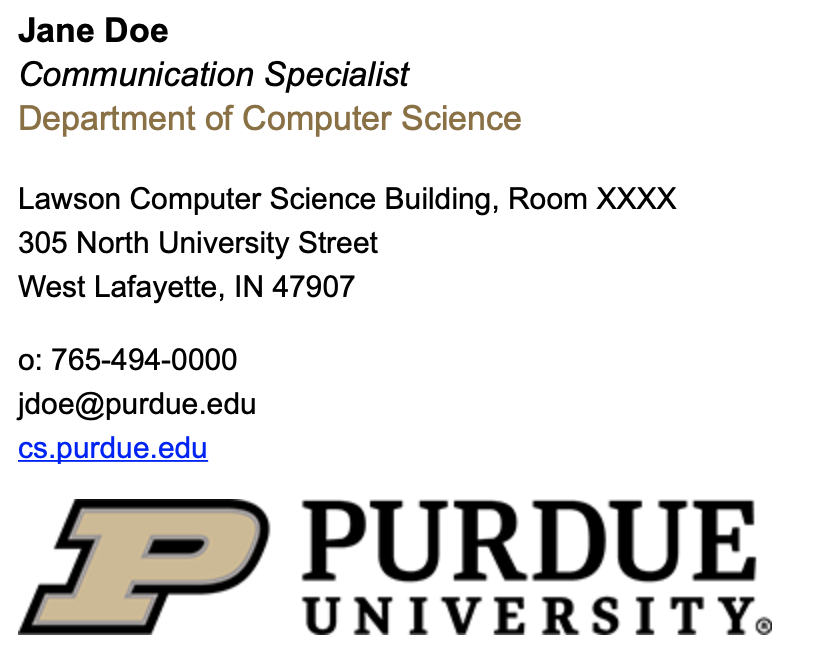 ---
Purdue and Campus Images
Access the Purdue Marketing and Communications' PhotoShelter for brand approved images.
---
Department Letterhead
Word: Download Letterhead Template (last updated January 2020)
LaTeX: Download Letterhead class for LaTeX (last updated February 2020)
Or, if on a CS Department Linux machine, use the pulet document class.
---
Branded Purdue CS PowerPoint Template
Download Widescreen Gold
Download Widescreen Black
Instructions to download Purdue brand fonts.
---
Science Writing and Communication
The department promotes scientific communication and content by faculty. Contact Emily Kinsell to begin.
There are three main ways we generate and communicate the scientific work in the department.
Through articles written within the department and published in our news
Through the Purdue News Service, our dedicated science writer is Brittany Steff
Through Purdue's relationship with The Conversation – in depth analysis, research, news, and ideas from leading academics and researchers. Faculty submit pieces in their area of expertise and work with an editor at The Conversation.
Last Updated: Nov 16, 2022 2:18 PM