Cherian's Trackscout takes first place in Purdue's Moonshot Pitch Challenge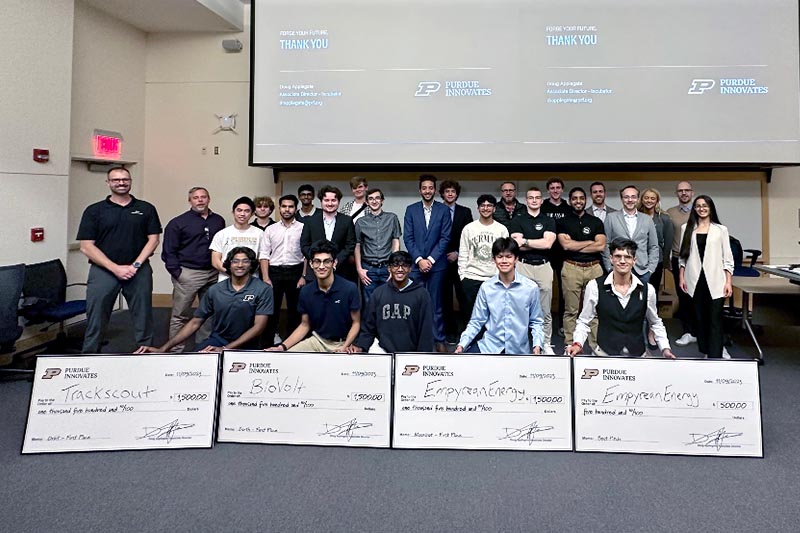 Purdue University students won cash prizes during the Moonshot Pitch Challenge, an ideation-focused judged event that featured two-minute pitches of solutions to address persistent problems.
Purdue undergraduate and graduate students across all colleges were eligible. Participants applied by submitting a video to explain the problem the team was addressing and propose its solution. Teams submitted their solutions in one of three categories:
Earth: Ideas primarily focused on addressing socioeconomic needs and challenges.
Orbit: Ideas primarily focused on launching a company.
Moonshot: Ideas primarily focused on solving a seemingly impossible problem.
Trackscout
Nathaniel
Cherian won the first place prize for the Purdue Moonshot Pitch Challenge in Orbit category with Trackscout, a platform which makes track and field recruitment easy. Athletes can assess their competitive status, access new recruit data and filter colleges by performance and academics.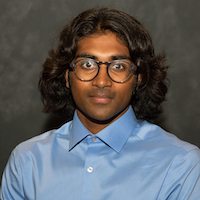 Cherian set out to create a platform to connect HS runners with college coaches. With his co-founder, Brayden Basinger (undergrad at Indiana University Kelley School of Business), they had the domain knowledge, software expertise, and connections for success.
"We developed Trackscout which provides potential collegiate track & field and XC athletes with insights into the colleges from which they could potentially be recruited," said Cherian.
Cherian said Trackscout is planning to launch its product in a couple of weeks with a national release shortly after. "Our ultimate goal is to change the track and field recruiting industry, which we feel is badly managed and operated," Cherian said. "The Moonshot Pitch Challenge money will be used for a good purpose when we start advertising to different schools."

Trackscout's launch is in late November and can be found at www.collegetrackscout.com. 

Purdue Innovates
Purdue Innovates Incubator organized the biannual event.
"The Moonshot Pitch Challenge is entirely about ideating bold, audacious solutions to address worldwide challenges," said Justin Renfrow, Incubator director. "Purdue students are proving their ability to think critically about problems and then take the next giant leaps to solve them."
Winning teams 
First-place teams in each category received $1,500 apiece. Teams that won the Best Pitch and Crowd Favorite awards received $500 apiece. The winners were:
First place, Moonshot category and Best Pitch: Empyrean Energy, which harnesses space's solar power for continuous, zero-emission energy on Earth, promising global access and environmental preservation.
Suryansh Panwar, an applied statistics student in the College of Science, said, "Giving the pitch in two minutes was difficult, but our focus was mainly on providing quality. I plan on going to the new-venture challenge next semester."
First place, Earth category: BioVolt, which generates electricity using photosynthesis. Its biophotovoltaic panel erases carbon emissions while creating energy at the same time.
Ayush Karkare, a student in the First-Year Engineering program in the College of Engineering, said, "It took a lot of effort to present; I practiced for hours and hours. The product was the perfect culmination because we've been working on the same project for a long time, which made it easier to pitch." 
First place, Orbit category: Trackscout, which makes track and field recruitment easy. Athletes can assess their competitive status, access new recruit data and filter colleges by performance and academics.
Crowd Favorite: OZO Diaper Pail, which creates a clean, odorless diaper storage experience by designing and prototyping a solution with an integrated ozone generator to reduce the smell and number of bags used.
Other finalist teams were Audio-Imagined, Autonomous Air Hockey Robot for Education, Battery++, Bulk Sauce, ChairCARE, EduChatify, Emboa, Garbage Gladiator, Maytik, Onboardr, Restaurant Link and Window Cleaning Drone. 
"Purdue Innovates recognizes that life-changing ideas are generated across all populations at Purdue University, including its amazing students," said Doug Applegate, Incubator associate director. "Incubator is proud to provide programming to all Purdue populations to ideate, refine and support their solutions."
Submissions for the next Moonshot Pitch Challenge will begin in February. 
About Purdue Innovates 
Purdue Innovates is a unified network at Purdue Research Foundation to assist Purdue faculty, staff, students and alumni in either IP commercialization or startup creation. As a conduit to technology commercialization, intellectual property protection and licensing, startup creation, and venture capital, Purdue Innovates serves as the front door to translate new ideas into world-changing impact.
For more information on licensing a Purdue innovation, contact the Purdue Innovates Office of Technology Commercialization at otcip@prf.org. For more information about involvement and investment opportunities in startups based on a Purdue innovation, contact Purdue Innovates at purdueinnovates@prf.org.
About Purdue University
Purdue University is a public research institution with excellence at scale. Ranked among top 10 public universities and with two colleges in the top 4 in the United States, Purdue discovers and disseminates knowledge with a quality and at a scale second to none. More than 105,000 students study at Purdue across modalities and locations, with 50,000 in person on the West Lafayette campus. Committed to affordability and accessibility, Purdue's main campus has frozen tuition 12 years in a row. See how Purdue never stops in the persistent pursuit of the next giant leap, including its first comprehensive urban campus in Indianapolis, the new Mitchell E. Daniels, Jr. School of Business, and Purdue Computes, at https://www.purdue.edu/president/strategic-initiatives.
Writer/Media contact: Steve Martin, sgmartin@prf.org
Sources: Justin Renfrow, jdrenfrow@prf.org
Doug Applegate, drapplegate@prf.org