An inclusive environment leads to growth and opportunity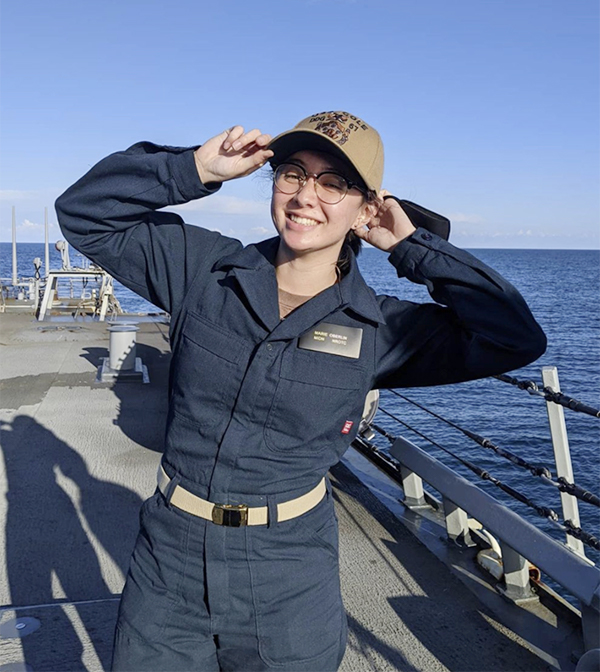 Marie Oberlin chose Purdue for its reputation in computer science and engineering, ultimately realizing she had more of an interest in software than hardware, she applied and was accepted as a computer science major. From her hometown in Honolulu, she decided to take a small step on the way to her next giant leap.
"I knew I wanted to travel out of state and thought about going into computer engineering, but after speaking with faculty, I chose to apply for computer science because the program has always been extremely well-regarded. When I was accepted, it was a no-brainer for me, though I do miss the warm Hawaii weather!"
Giving back through service
Oberlin came to Purdue on a Navy ROTC national scholarship and is finishing her senior year. While not easy, she is happy she chose the Navy ROTC program. 
"Although my time at Purdue Navy ROTC has been tough, with grueling 0500 wakeups almost every day, I choose to stick with it because I know I want to give back."
"I was originally born and raised in South Korea before moving to the US in 2009," said Oberlin. She added, "Knowing the amount of humanitarian aid that the US Navy has been able to provide for other countries including Korea, I wanted to give back to the country that welcomed me with open arms, even though I wasn't from the US." 
Opportunities for students to be involved at Purdue are immense, there are over 1,000 student organizations and Purdue is ranked #4 for student engagement by the Wall Street Journal. 
"I'm most proud of being a part of ROTC and holding positions in extracurricular clubs. I joined Purdue's Capture The Flag (CTF) team, called b01lers early into my junior year and it has been one of the most fulfilling clubs I've ever been a part of."
Through skills Oberlin learned in b01lers, her b00tcamp team placed second in the beginning level of a national CTF competition. Now Oberlin holds the role of vice president for b01lers and she enjoys the leadership role because she helps others learn how to exploit programs just like the previous members helped her. 
Oberlin says, "It's very rewarding to know that I'll have the chance to teach others these skills that have changed my life and perspective about cybersecurity."
Cybersecurity
Oberlin is a computer science major with a minor in naval science. She chose the security track to customize her degree. All computer science students develop foundations of computing in six core computer science courses. After that, students choose an area by specializing in one or more tracks. 
Oberlin adds, "In the security track, I've enjoyed learning about cybersecurity/cyberwarfare both from a technical and a geopolitical point-of-view. In my classwork, I've been able to understand low-level memory management through classes like Operating Systems (354) and Systems Programming (252), the latter of which I now work as an undergraduate teaching assistant."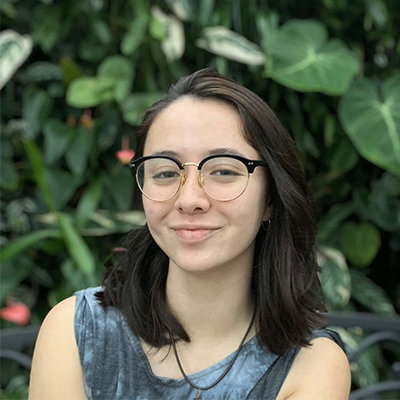 Oberlin has thoughts about information security, especially when she sees friends underestimate how much of their personal information is available and the steps they need to take to stay safe and protect their digital footprint.
"Maybe this is the security nerd in me," says Oberlin, "but I really wish people would understand that everything in our world is automated." She adds, "Whether it's cars, refrigerators, planes or the more obvious, like our phones and laptops, your data is at risk and there are simple and easy measures to implement that will protect your data. It might be scary to think about, but almost everything in our lives is hackable and most of your information is vulnerable. It gives me hope and determination to help educate others in staying safe and being advocates for information security – so please, be careful what you put out there!"
After graduation, Oberlin hopes to continue her research in cyber vulnerabilities as an officer in the Intelligence Warfare Community for the US Navy
About the Department of Computer Science at Purdue University
Founded in 1962, the Department of Computer Science was created to be an innovative base of knowledge in the emerging field of computing as the first degree-awarding program in the United States. The department continues to advance the computer science industry through research. US News & Reports ranks Purdue CS #20 and #18 overall in graduate and undergraduate programs respectively, ninth in both software engineering and cybersecurity, 14th in programming languages, 13th in computing systems, and 24th in artificial intelligence. Graduates of the program are able to solve complex and challenging problems in many fields. Our consistent success in an ever-changing landscape is reflected in the record undergraduate enrollment, increased faculty hiring, innovative research projects, and the creation of new academic programs. The increasing centrality of computer science in academic disciplines and society, and new research activities - centered around data science, artificial intelligence, programming languages, theoretical computer science, machine learning, and cybersecurity - are the future focus of the department. cs.purdue.edu