Spafford Honored with Morrill Award
04-27-2012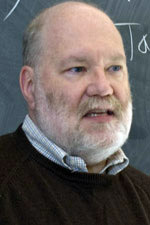 Faculty members were recognized Thursday, April 26, 2012 for international and national awards, University and college honors, and distinguished and named professorships at the Faculty Awards Convocation. The convocation also honored faculty for their years of service.
A new annual award honoring West Lafayette faculty members' outstanding career achievements was presented at the convocation. In honor of the 150th anniversary of the federal Morrill Act, which allowed for the creation of land-grant colleges and universities, the Office of the Provost gave four Morrill Awards to faculty members who have excelled as teachers, researchers and scholars, and in engagement missions. The awards are named for Justin Smith Morrill, the Vermont congressman who sponsored the 1862 legislation that bears his name.
Professor of Computer Science Eugene Spafford was one of four faculty to receive a Morrill Award. Each Morrill Award was accompanied by a $30,000 prize, which may be used as discretionary funds or as salary supplements.
Other CS faculty honored at the convocation included Charles Killian, Ramana Kompella, Yuan (Alan) Qi, and Olga Vitek for their 2011 National Science Foundation Early Career Awards; David Gleich for his National Science Foundation CAREER Research Award; and Dongyan Xu for his University Faculty Scholar recognition.
Congratulations on these awards to all those recognized!
Last Updated: Jun 29, 2023 8:52 AM