2023 Alumnus Award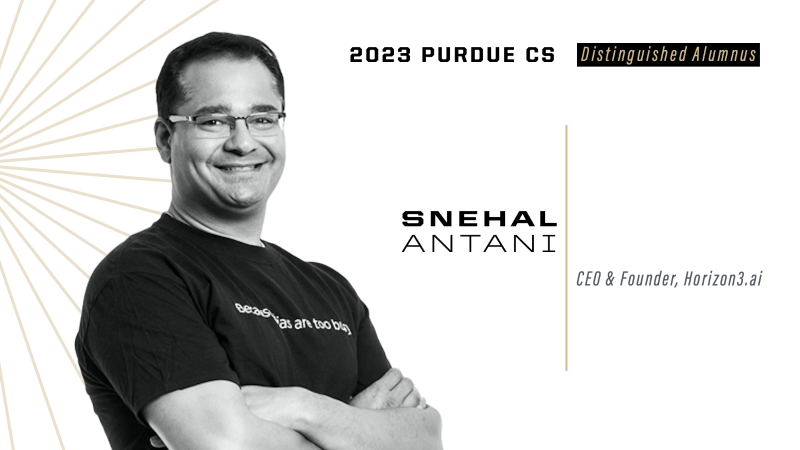 Join us for a reception and talk to honor Snehal Antani, 2023 Distinguished Alumnus in Computer Science. 
Fri Apr 14 | 10:30am | LWSN 3102

Distinguished Alumni Award

The Distinguished Alumni Award is awarded to exceptional alumni who provide significant leadership within their chosen field as well as noteworthy professional accomplishments that reflect favorably on their profession, the College of Science, Purdue University and society. The award recipients represent the very best of our alumni and we are honored to celebrate their significant achievements in the field and around the world.
The 2023 Distinguished Alumni Award recipient is Snehal Antani.
Snehal Antani is an entrepreneur, technologist, and investor. He is chief executive officer and founder of Horizon3.ai, a growth-stage cyber security company using AI to deliver autonomous penetration testing.  
Prior to Horizon3, Antani served as the first chief technology officer for Joint Special Operations Command. As a member of the commander's executive team, he led data analytics, cloud/edge computing, and cyber security initiatives.
In addition to serving with the United States Special Operations, Antani served as chief technology officer and senior vice president at Splunk. He also held multiple chief information officer roles at GE Capital.
Antani earned a bachelor's degree in computer science in 2002 from Purdue University and a master's degree in computer science from Rensselaer Polytechnic University.
He holds 18 patents and was one of the youngest executives in GE history. He was also one of the youngest highly qualified experts in the United States Department of Defense history.
Antani resides in the San Francisco Bay area with his wife and 3 children.
Last Updated: Apr 6, 2023 2:26 PM