Christian Mösl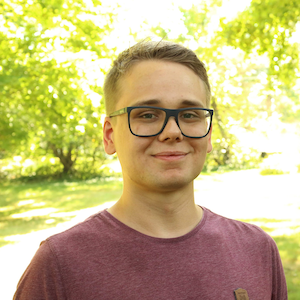 Purdue CS
: Tell us about yourself.
CM
: I am Christian Mösl from Austria, and I study computer science at the University of Salzburg. Sport and education are the two significant drivers in my life. In Salzburg, I like to spend my spare time in the wild, where I go climbing and running.  
Purdue CS
: How did you become interested in computer science and research?
CM
: I used to be an apprentice in mechatronics who programs microcontrollers for embedded devices until I realized I want to learn much more, as I needed to know to do my job. So as soon, as I finished my apprenticeship, I started my academic career. At the university, I did not lose my interest in computer systems, and therefore it was not that surprising, that a compiler course hold by professor Christoph M. Kirsch was fascinating for me. He inspired me to dig deeper into the world of operating systems, for which I am very thankful. 
Purdue CS
: What are your future plans in the CS industry?
CM
: I haven't decided if I want to pursue industry or academia as a career. In the short time, I plan to pursue a PhD in computer science and continue doing research. It was always a dream of mine, to study or work abroad, which is why I was very excited to do this internship at Purdue. 
Purdue CS
: What are you working on during the GoBoiler Internship?
CM
: In my GoBoiler project, I am working on WebAssembly, the upcoming standard for high-performance code on the web with Professor
Tiark Rompf
. The crucial part of this project is, to explore if the LMS framework can be used as an efficient compiler for WebAssembly, which requires significant program analysis. 
Purdue CS
: What influenced you to apply for the GoBoiler Internship?
CM
: Initially, it was my friend Manuel who made me aware of this internship opportunity at Purdue University. After less than a day, I took the chance and applied. A big reason for that was the broad spectrum of interesting projects as well as the popular programming language group, which suits my interests perfectly. 
Last Updated: Aug 5, 2019 12:43 PM