Goldwasser wins Amazon Research Award
10-27-2022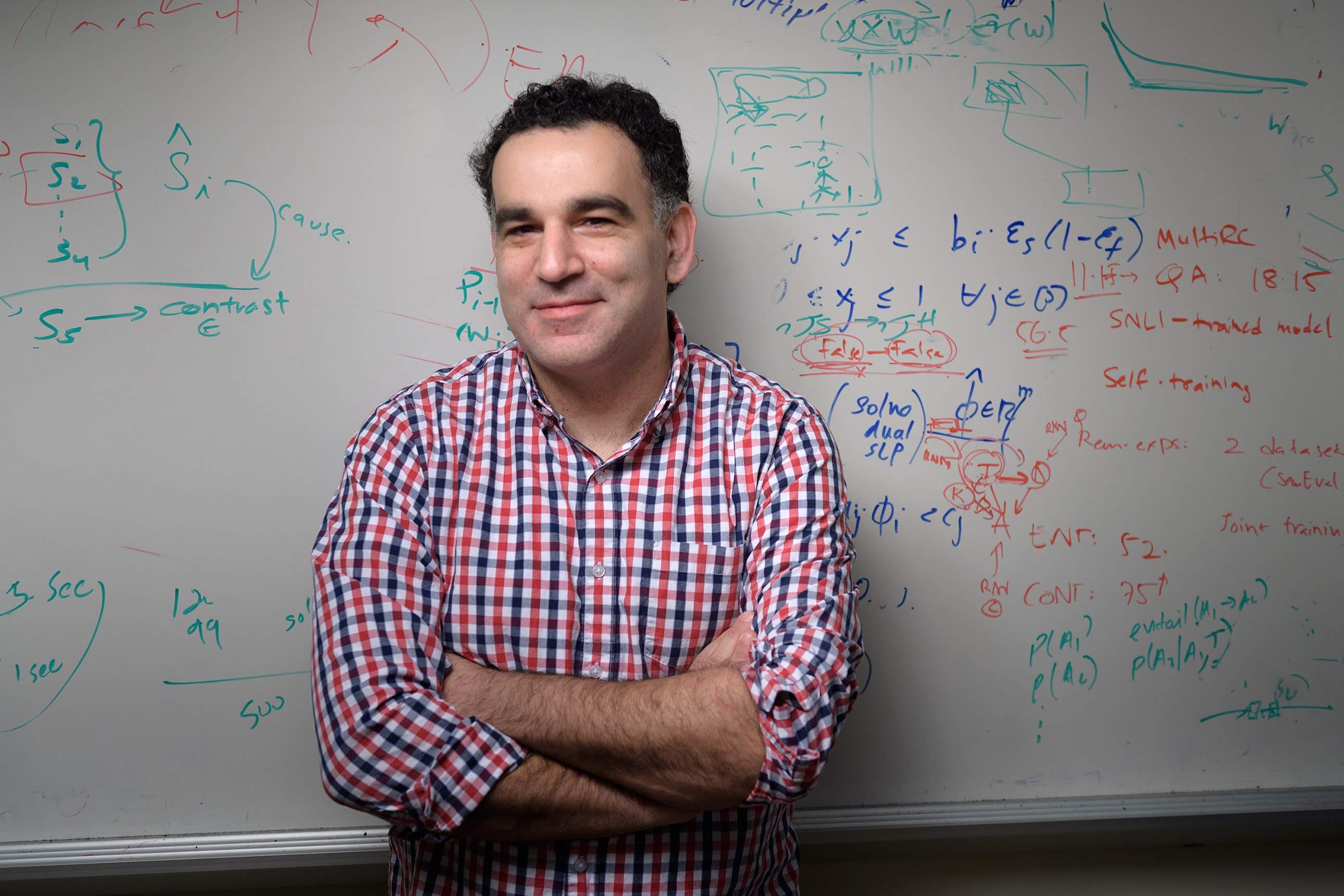 Congratulations to Professor Dan Goldwasser for his project titled, Understanding Socially Grounded Language using Contextualized Discourse Embedding. He is one among the 51 awardees of the Fall 2021 Amazon Research Awards, representing more than 37 universities in eight countries. 
The funded work, led by Goldwasser, looks at the short and highly coded nature of social media content and interpretation of the author's intent. Viewing social media analysis in a different way, as a scenario understanding task, answering the question –"who is saying what about whom?" at the scenario discourse level. 
Rather than analyzing documents individually, the project will capture the different perspectives and attitudes of all stakeholders (e.g., politicians, experts, different social and demographic groups) towards relevant target entities (e.g., people, institutions, products, etc.), by aggregating all the text they author and grounding it in relevant scenario information. 
The suggested framework will consolidate and draw insights from different types of documents, ranging from social media posts and debate forum posts to news articles and editorials. The results will be analyzed in a unified way, capturing the connections between attitudes towards relevant entities, stances on issues and ideological perspectives. 
"To understand the need for this framework, consider a statement like 'Every effort should be made to keep children safe,'" said Goldwasser. He added, "Depending on the real world context that could mean 'vaccinate children' or 'keep guns out of school,' and depending on the perspective of the speaker, it can also mean 'don't vaccinate children' or 'provide teachers with firearms to protect children.' Resolving this ambiguity requires a different approach to language representation, one that goes beyond traditional language modeling."
The project's analysis will build on contextualized text representations, grounded in real-world events and entities, which will provide the necessary background required for interpreting the opinionated text. 
Next, the project will formulate and operationalize language understanding in these grounded settings, collecting and annotating scenarios, each consisting of thousands of documents, their authors and relevant stakeholders. 
Dan Goldwasser is an associate professor in the Department of Computer Science at Purdue University. His research is in artificial intelligence, focusing on machine learning and natural language processing. He is broadly interested in connecting natural language with real world scenarios and using them to guide natural language understanding. His recent work evaluated frameworks for specifying deep relational models, designed to support a variety of NLP scenarios. Goldwasser received an NSF CAREER Award in 2021.Prior to joining Purdue University, Goldwasser received his PhD in Computer Science from University of Illinois at Urbana-Champaign and was a postdoctoral researcher at the University of Maryland in College Park. 
Amazon Research Awards was founded in 2015 and merged with AWS Machine Learning Research Awards in 2020. The program offers unrestricted funds and AWS Promotional Credits to support research at academic institutions and non-profit organizations in areas that align with Amazon's mission to advance customer-obsessed science.
About the Department of Computer Science at Purdue University
Founded in 1962, the Department of Computer Science was created to be an innovative base of knowledge in the emerging field of computing as the first degree-awarding program in the United States. The department continues to advance the computer science industry through research. US News & Reports ranks Purdue CS #20 and #16 overall in graduate and undergraduate programs respectively, seventh in cybersecurity, 10th in software engineering, 13th in programming languages, data analytics, and computer systems, and 19th in artificial intelligence. Graduates of the program are able to solve complex and challenging problems in many fields. Our consistent success in an ever-changing landscape is reflected in the record undergraduate enrollment, increased faculty hiring, innovative research projects, and the creation of new academic programs. The increasing centrality of computer science in academic disciplines and society, and new research activities - centered around data science, artificial intelligence, programming languages, theoretical computer science, machine learning, and cybersecurity - are the future focus of the department. cs.purdue.edu
Writer: Emily Kinsell, emily@purdue.edu
Source: Dan Goldwasser, dgoldwas@purdue.edu
Last Updated: Oct 27, 2022 5:42 PM