College of Science signs agreement for Egyptian CS students to earn an MS in Information Security from Purdue CS
08-12-2020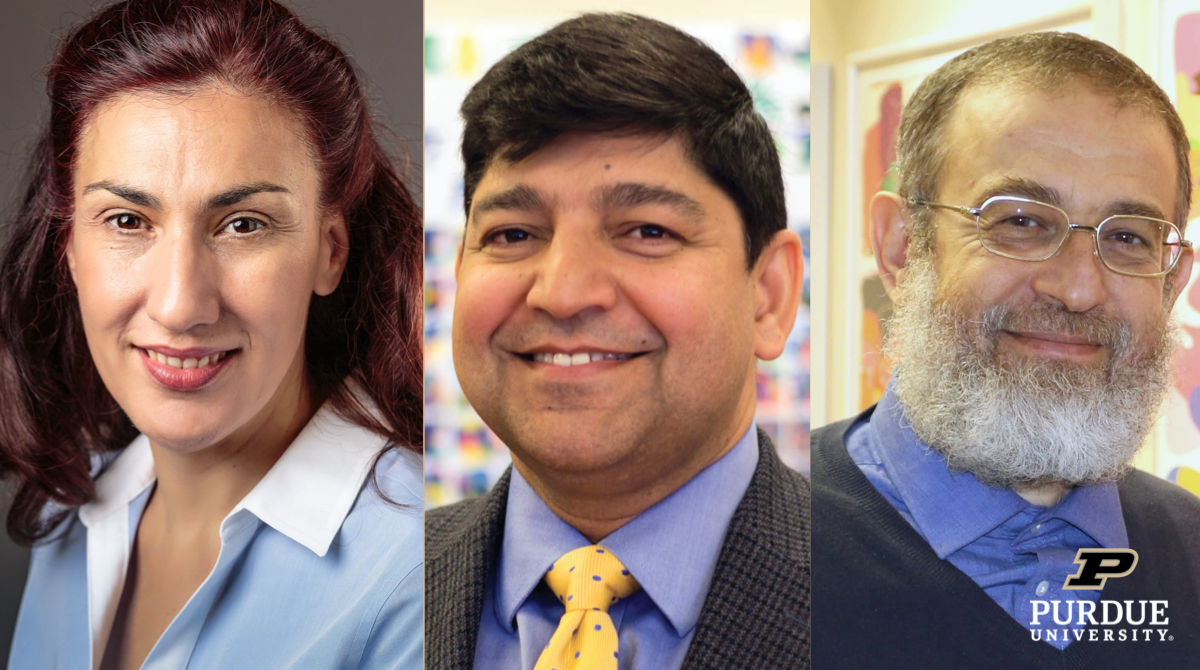 Purdue University signs agreements with Egyptian Ministry of Communications and Information Technology to launch dual degree programs
WEST LAFAYETTE, Ind. — Purdue University's colleges of Engineering and Science, and Egypt's Ministry of Communications and Information Technology (MCIT) signed agreements Tuesday (Aug. 11) to enable Egyptian students to earn a Bachelor of Science in Electrical Engineering, a Bachelor of Science in Computer Engineering, or a Professional Master degree in Information Security from Purdue University.
The new degree programs align with Egypt's strategy of enhancing specialized training in advanced technologies to equip graduates to compete successfully in the digitally driven economy.
Students in the new programs will attend the Egypt University of Informatics (EUI), which MCIT is working to establish in Knowledge City in Egypt's New Administrative Capital, and then transfer to Purdue, provided that they meet academic requirements. EUI will be the first university in the Middle East and Africa region to specialize in information and communications technology (ICT). Faculty from EUI and Purdue will be encouraged to co-teach courses, and study plans will include blended online course delivery, which Purdue Online will support.
"This is an exceptional project of exceptional promise. This endeavor fits our mission and has potential for genuine impact," Purdue President Mitch Daniels said at the virtual signing ceremony, attended by more than two dozen Egyptian and U.S. dignitaries, including the chargé d'affaires of the U.S. Embassy in Cairo, and Purdue faculty and staff. "We at Purdue believe in the transformative power of higher education and the absolute necessity of providing our youth with the foundational skills they need to succeed and move our economies and societies forward."
George Chiu, assistant dean of Global Engineering Programs and professor of mechanical engineering, said, "Our new collaboration is another example of Purdue's commitment to working with Egyptian partners, like the ministry, to identify mutually beneficial opportunities that support workforce development and research priorities across a variety of academic disciplines."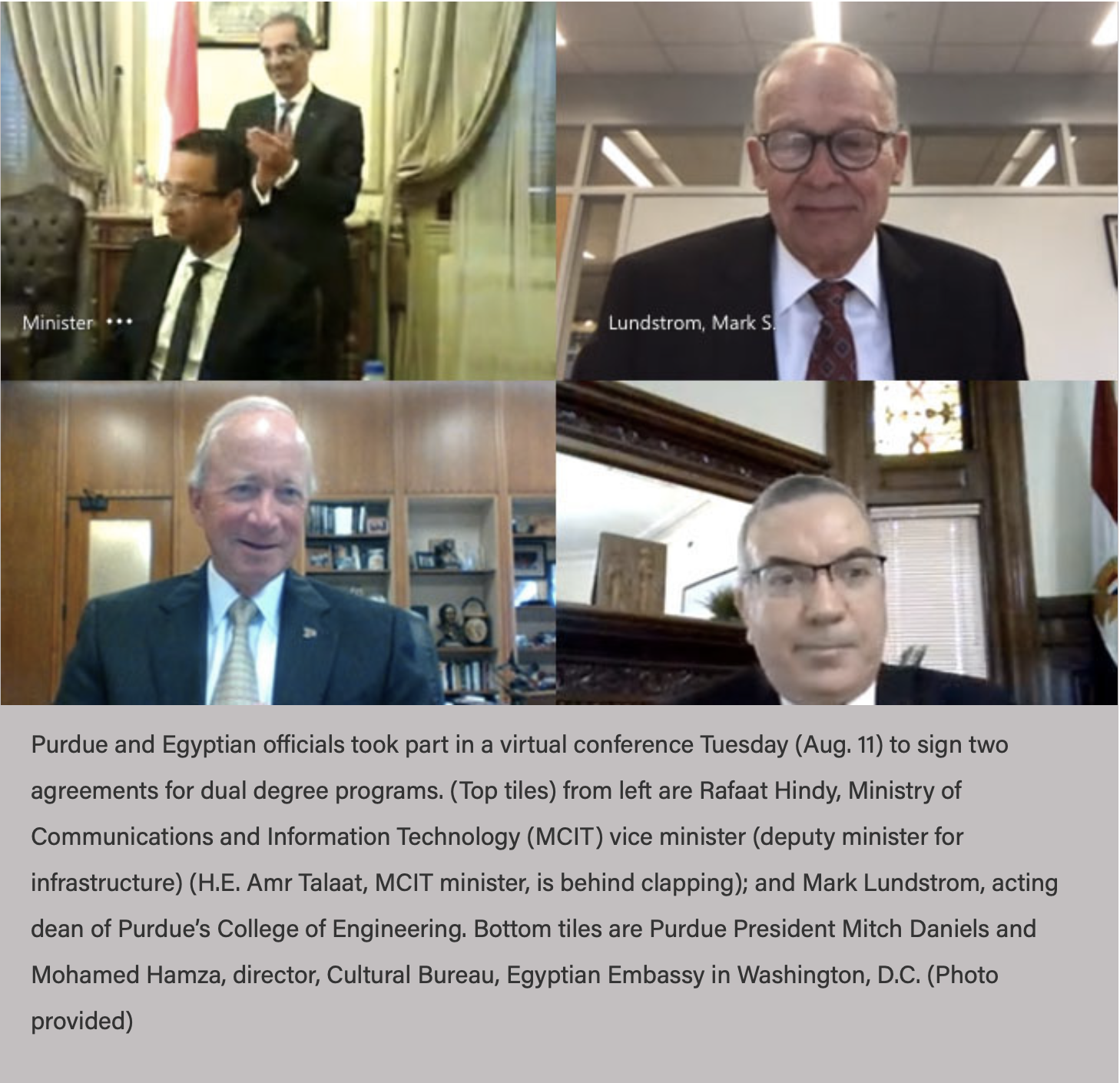 The new Purdue partnership builds on a foundation of collaboration with Egyptian universities. For instance, in April 2019, Purdue received support for the creation of one of three USAID-funded Centers of Excellence in Egypt at the University of Cairo, focused on linkages between research and the public and private sectors. Since the mid-1990s, Purdue has been partnering with a number of Egyptian universities on research, student exchange programs and international educational collaborations.
For the electrical engineering and computer engineering programs, students will spend their first two years at EUI and then transfer to Purdue's School of Electrical and Computer Engineering in West Lafayette for their last two years, meeting the requirements to receive a BS degree from both universities.
"We are delighted to join with the Ministry of Communications and Information Technology in a partnership that we envision as setting a benchmark for global collaboration and online learning," said Mark S. Lundstrom, acting dean of the Purdue College of Engineering and the Don and Carol Scifres Distinguished Professor of Electrical and Computer Engineering. "In line with Purdue's land-grant mission, our faculty looks forward to working hand-in-hand with Egyptian colleagues to accelerate Egypt's efforts to hone its young people's skills for the digital transformation."
Dimitrios (Dimitri) Peroulis is the Michael and Katherine Birck Head and Reilly Professor of the School of Electrical and Computer Engineering at Purdue University. In addition, he serves as a special advisor to the Dean of Engineering on online learning.
"We are happy to innovate and create this unique partnership that blends the boundaries of online and on-campus education and is expected to benefit many students. We are eager to welcome our dual degree students virtually and on-campus," Peroulis said.
For the information security program, students will receive a bachelor's degree from EUI after four years, including taking Purdue blended online professional master's courses in information security during their senior year. Upon graduation with a bachelor's degree from EUI, students will apply to transfer to Purdue's Department of Computer Science to complete requirements for an MS in information security.
"Research expertise in information security is a leading strength at Purdue," said Patrick J. Wolfe, the Frederick L. Hovde Dean of the College of Science and Miller Family Professor of Statistics and Computer Science. "We are incredibly pleased and proud to be partnering with our Egyptian colleagues on this effort."
Sunil Prabhakar, head and professor of the Department of Computer Science, said, "We are excited to offer this opportunity to EUI students to continue their education through our master's degree program in information security. We know this degree enhances students' skills in the security profession, and given the increasing importance of cybersecurity, the degree will position EUI students to meet challenges and needs across the globe."
"The College of Science is very excited to be partnering with the Egyptian Ministry of Communications and Information Technology in order to launch this innovative program in computer science and information security," said Peristera Paschou, associate dean for online and graduate education for the College of Science. "This agreement showcases our commitment to expanding international partnerships despite challenges brought on by the COVID-19 pandemic. This is also the first international dual BS/MS program in the College of Science and paves the way for establishing similar programs with other partners."
Walid Aref, professor of computer science, who was instrumental in negotiations for the BS/MS program, said, "This exemplary collaboration between the College of Science and MCIT will open the door to similar agreements with other prominent overseas universities. As Purdue Computer Science moves toward a fully online professional master's degree in information security, this partnership can become a model that can be replicated beyond information security. For example, a professional master's degree in data science that our department is developing could be an excellent next candidate for a similar program, and other academic units could follow suit."
About Purdue Online
Purdue Online is the administrative unit charged with driving and coordinating the rapidly growing online offerings of Purdue's four campuses, including its flagship West Lafayette campus; Purdue's virtual campus, Purdue Global; and its regional campuses, Purdue Fort Wayne and Purdue Northwest. Purdue now has hundreds of online courses aimed at serving all types of students and ranging from undergraduate and graduate degrees to continuing education certification and tailored corporate training. For more information, visit online.purdue.edu.
About the Office of Global Partnerships
The mission of the Office of Global Partnerships is to increase the impact, scale and sustainability of Purdue University's global partnerships for the purpose of creating additive and tangible contributions to the Purdue Moves, Purdue's global reputation/rankings; and the overall Purdue experience for students and faculty.
About Purdue University
Purdue University is a top public research institution developing practical solutions to today's toughest challenges. Ranked the No. 6 Most Innovative University in the United States by U.S. News & World Report, Purdue delivers world-changing research and out-of-this-world discovery. Committed to hands-on and online, real-world learning, Purdue offers a transformative education to all. Committed to affordability and accessibility, Purdue has frozen tuition and most fees at 2012-13 levels, enabling more students than ever to graduate debt-free. See how Purdue never stops in the persistent pursuit of the next giant leap at https://purdue.edu/.
Media contact: Jim Bush, jsbush@purdue.edu
Journalists visiting campus: Journalists should follow Protect Purdue protocols and the following guidelines:
Campus is open, but the number of people in spaces may be limited. We will be as accommodating as possible, but you may be asked to step out or report from another location.
To enable access, particularly to campus buildings, we recommend you contact the Purdue News Service media contact listed on the release to let them know the nature of the visit and where you will be visiting. A News Service representative can facilitate safe access and may escort you on campus.
Wear face masks inside any campus building. Wear face masks outdoors when social distancing of at least six feet is not possible.
PHOTO CAPTION:
Purdue and Egyptian officials took part in a virtual conference Tuesday (Aug. 11) to sign two agreements for dual degree programs. (Top tiles) from left are Rafaat Hindy, Ministry of Communications and Information Technology (MCIT) vice minister (deputy minister for infrastructure) (H.E. Amr Talaat, MCIT minister, is behind clapping); and Mark Lundstrom, acting dean of Purdue's College of Engineering. Bottom tiles are Purdue President Mitch Daniels and Mohamed Hamza, director, Cultural Bureau, Egyptian Embassy in Washington, D.C. (Photo provided)
A low-resolution photo is at https://www.purdue.edu/uns/images/2020/daniels-signingLO.jpg
Last Updated: Aug 12, 2020 10:47 AM