Arxan Technologies Developed by Purdue Computer Science Professors Announcement
10-02-2013
Writer(s): Jesica E. Hollinger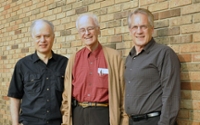 Arxan, an application security company specializing in software protection, was recently sold to TA Associates, one of the largest private equity firms.
Founded by members of the Computer Science Department and local entrepreneur, Eric Davis, in 2001, the company grew out of efforts by Distinguished Professor Mikhail (Mike) Atallah, his graduate student, Hoi Chang, Distinguished Professor John Rice, and Assistant Head Tim Korb, working together to develop the technology for a business that grew into one of the leading providers of software security solutions.
The technology protects from attacks in distributed or untrusted environments and is used in more than 200 million computing devices, providing protection from hackers by linking "guards" at different points within software code.
Purdue supported their efforts with the Trask fund and also paid for the legal expenses of the patents. "Purdue was very helpful, providing some initial funding, filing for patents, renting to the company its initial space at the Research Park under advantageous conditions, and eventually licensing the technology to the company. Before Arxan was founded in 2001, both the CS Department and the CERIAS center provided facilities for research, and an environment conducive to generating the results that were eventually licensed to Arxan. After Arxan was founded in 2001, Purdue also gave us the flexibility and encouragement to pursue this venture," Atallah said.
The ultimate decision to sell Arxan was driven by the board of directors, with regard to market conditions. Atallah added, "The recent rapid growth of mobile computing gave a boost to Arxan, because mobile devices are so easily compromised and we were positioned to protect the apps in such situations." Both Atallah and Korb will continue to serve on the technical advisory board, along with Professor Eugene Spafford, who is also the founder and director for the Center for Education and Research in Information Assurance and Security (CERIAS).
TA Associates was founded in 1968 and is one of the largest global, middle-market growth, private equity firms in the world. The firm has invested in more than 430 companies and has raised $118 billion in capital with offices in Boston, Menlo Park, London, Mumbai, and Hong Kong. TA leads the world in buyouts and minority recapitalizations of profitable growth companies in technology, financial services, business services, health care and consumer industries. 
More information about Arxan is available at https://www.arxan.com/
Sources: Mikhail Atallah, (765) 494-6010
Tim Korb, (765) 494-6184
Related websites: https://www.ta.com/about/news/ta-associates-announces-majority-investment-in-arxan-technologies
Last Updated: Apr 7, 2017 5:10 PM