CS Students Compete in Cluster Challenge
11-04-2011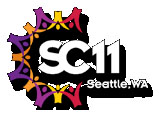 From November 14 through November 16, 2011, five Computer Science students participated in the Student Cluster Competition at SC11 in Seattle.
The competition featured small teams that competed to harness the incredible power of current-generation cluster hardware. In a real-time challenge, teams of six undergraduate and/or high school students built a small cluster of their own design on the SC exhibit floor and raced to demonstrate the greatest sustained performance across a series of applications.
The Purdue Cluster Challenge team was chosen as one of the eight to compete, and they took on teams from China, Costa Rica, Russia, and Taiwan, as well as other U.S. teams.
The CS majors on the team were seniors Alex Bartol and Michael Heffernan and juniors Joad Fattah, Andrew Huff, and Tyler Reid. They were joined by John Blaas, a senior in Computer & Information Technology. Bartol, Heffernan, and Fattah were each competing for the second year in a row.
The article "Conference showcases Purdue student supercomputing team, technologies for building research communities" by ITaP science and technology writer Greg Kline is reprinted below.
*
WEST LAFAYETTE, Ind. - For Tyler Reid, being a member of Purdue's supercomputing team means getting his hands on the latest hardware - really on it - an opportunity too good to pass up.
The six-member team of Purdue students built its own supercomputer this semester in preparation for competing Nov. 14-16 in the 2011 Cluster Challenge in Seattle. That's the student competition at SC11, the world's largest supercomputing conference. The team is sponsored by Information Technology at Purdue (ITaP), Purdue's central information technology organization, in partnership with Intel.
"I love to solve problems on the fly," says Reid, a junior in computer science from Zionsville, Ind. "I also am looking forward to competing against teams of students from all over the world."
The Purdue Cluster Challenge team was one of eight qualifiers, one of four from the United States. The team will compete against teams from China, Costa Rica, Russia and Taiwan. Purdue's is the lone team from the Big Ten.
In addition to Reid, the Cluster Challenge team members are Alex Bartol, a senior in computer science from Fort Wayne, Ind.; John Blaas, a senior in computer and information technology from Lafayette, Ind.; Joad Fattah, a junior in computer science from Carmel, Ind.; Michael Heffernan, a senior in computer science from Kokomo, Ind.; and Andrew Huff, a junior in computer science from Cary, N.C.
SC11, taking place in Seattle Nov. 12-18, also is a showcase for Purdue-developed technologies that help build research communities and equip researchers with computational resources including three winners of the international Campus Technology Innovators Award:
* Purdue's Community Cluster Program, a partnership between ITaP and faculty to build shared supercomputers for research, primarily on campus but also on national research networks, such as the National Science Foundation's Extreme Science and Engineering Discovery Environment (XSEDE).
* DiaGrid, a Purdue-led partnership of 10 schools that harnesses computers in offices, student labs and elsewhere on the campuses when the machines aren't busy and consolidates the computing power for research work in a model for academic cloud computing.
* HUBzero, a Web-based system that makes posting and using computational tools about as easy as posting and viewing a YouTube video and brings access to high-performance and cloud computing as close as the Web browser. Built-in social networking features similar to Facebook for scientists create communities of researchers, practitioners, educators and students for virtual research partnerships and education.
"Today's science and engineering problems involve huge amounts of data and are multidisciplinary with researchers working together across campus, across the country and around the world," says John Campbell, associate vice president of academic technologies. "The technologies we develop at Purdue are designed to bring researchers together no matter where they are, along with computational tools they need for discovery and that their students need for learning."
With 160 of the Intel's processors inside, 40 times more than a typical personal computer, the supercomputer built by the students is akin to a mini version of Purdue's newest community cluster, called Hansen, which ITaP completed in September. Faculty researchers in earth and atmospheric sciences, chemistry, physics, computer science, aeronautics and astronautics, electrical and computer engineering and materials engineering use Hansen.
Likewise, the Cluster Challenge team - limited to undergraduates - must get its machine to run an assigned selection of real research software. The software in the 2011 competition is used for simulating the actions of individual chemical molecules, the colliding and merging of galaxies, the basic workings of biological life and the motion of the oceans. Team members will work in shifts around the clock during the competition to crunch voluminous sets of sample data from those fields as quickly and efficiently as possible.
"This year's team has a nice mix of experience, ingenuity and skills, with three of the students returning from last year's competition," says Mike Baldwin, a Purdue atmospheric scientist serving as faculty adviser.
Last Updated: May 18, 2017 2:24 PM