Curt Worsey, 2005 Computer Science Distinguished Alumnus
04-15-2005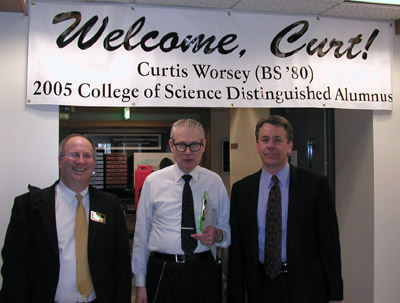 The 2005 Computer Science Distinguished Alumnus, Curt Worsey, received his Bachelor of Science degree from Purdue Computer Science in 1980. He is an independent consultant and a former senior partner with Accenture.
Distinguished Alumni Awards were established in 1990 to recognize outstanding achievement in professional and related fields of endeavor. The 2005 distinguished alumni program, held on April 15, started with a breakfast with Dean Jeffrey Vitter, and ended in the Elliot Hall of Music with the College of Science Distinguished Alumni Awards Program.
In addition to the many events planned by the College of Science, Curt Worsey paid a visit to CS administration, faculty, staff and students. A reception was held for Curt in the CS building before his talk, "From Coding to Entrepreneurship: The Consulting Life of a CS Graduate."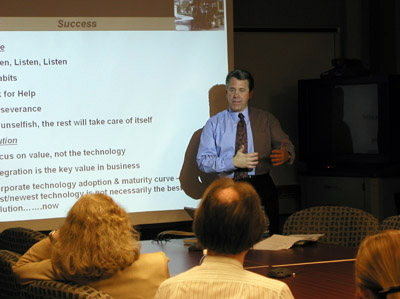 In his presentation Curt discussed his journey and evolution through two recessions, a tech boom and its bust. The talk covered everything from dispelling the myth those who can't do, consult to what Curt would change about his path if he started all over.
Curt told faculty, staff, and students from CS and Management how he and other "programmers" make successful careers out of consulting. He discussed:
How consulting can be a rewarding career for a CS graduate
How to balance the love for technology details with entrepreneurship
How to use technical prowess as a learning launching pad
Multiple ways to succeed - the generalist vs. the specialist
Surviving the downturns - a focus on constant renewal
Best preparations from campus life and what had to be learned
Observations on technology needs, corporate behavior, outsourcing, etc.
Curt Worsey has spent 25 years in the technology and management consulting world and recently retired as a Partner from Accenture, the worlds leading global management consulting, technology services and outsourcing company. Curt is currently assisting organizations with business strategy, operations, and leadership development. During his tenure at Accenture, Curt assisted clients with technology strategy and business improvement programs in the areas of Finance operations, Outsourcing, Corporate Performance Management (Metrics Development and Reporting), Sales Force Effectiveness and the implementation of large-scale enterprise systems. He was one of the firm's early leaders in reengineering Finance organizations and the application of Balanced Scorecards for business performance, and has spent most of his career serving High Technology, Aerospace and Biotech clients. Curt was very active in the delivery of Personal and Professional Leadership seminars for his people and clients. He also served on Purdue's Computer Science Building campaign committee as one of the original members.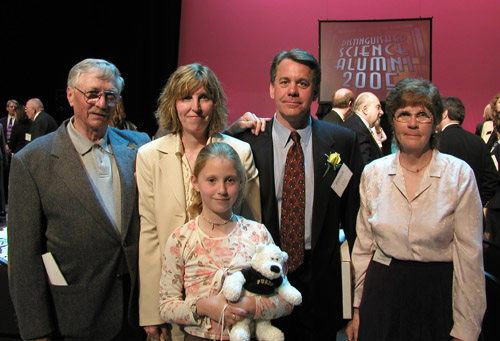 Curt's family joined him on his Purdue visit. He was accompanied by his wife, Caroline, daughter, Catie, and Caroline's parents, Larry and JoAnn Muhlenbeck. While Curt met with CS departmental administration, his family went on guided tours of Ross-Ade Stadium and Purdue's Galleries in the Purdue Memorial Union and Stewart Center.
Last Updated: Apr 5, 2017 5:10 PM