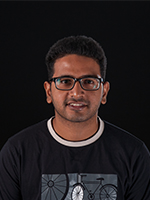 Md Nasim
Graduate Student
Graduate Research Assistant
Joined department: Fall 2017
Education
BSc, Bangladesh University of Engineering and Technology, Computer Science and Engineering (2015)
PhD student working on computer vision, physics model learning from data.

Selected Publications
Nasim, Md, Xinghang Zhang, Anter El-Azab, and Yexiang Xue. "Efficient Learning of Sparse and Decomposable PDEs using Random Projection." In The 38th Conference on Uncertainty in Artificial Intelligence. 2022.
Xue, Yexiang, Md Nasim, Maosen Zhang, Cuncai Fan, Xinghang Zhang, and Anter El-Azab. "Physics knowledge discovery via neural differential equation embedding." In Joint European Conference on Machine Learning and Knowledge Discovery in Databases, pp. 118-134. Springer, Cham, 2021.
Niu T, Nasim M, Annadanam RG, Fan C, Li J, Shang Z, Xue Y, El-Azab A, Wang H, Zhang X. Recent studies on void shrinkage in metallic materials subjected to in situ heavy ion irradiations. JOM. 2020 Nov;72(11):4008-16.
Last Updated: Dec 4, 2020 2:03 PM