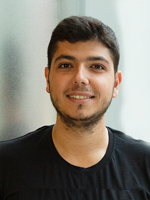 Charalampos Katsis
Graduate Student
Graduate Research Assistant
Joined department: Fall 2019
Education
Information and Communication Systems Engineering, University of the Aegean, Greece, (2018)
I have obtained my Bachelor of Science from the Department of Information and Communication Systems Engineering, of the School of Engineering, of the University of the Aegean, Greece. My course structure was oriented towards Information and Communication Systems Security and Privacy and Communication Systems and Networks.
Undergraduate thesis: "Implementation of a behavioral profile model to detect compromised accounts on social networks. A case study on Facebook." Supervisor: Professor Georgios Kambourakis.
Currently, I am a Ph.D. student at the Computer Science Department of Purdue University under the supervision of Professor Elisa Bertino. My primary research focus lies in Information Assurance and Security.
Research interests:

I am really interested in Information & communication systems security, Fog & cloud computing security, Cybersecurity (in general), Computer & mobile forensics, Mobile and wireless communications systems security and privacy, IoT security & privacy, Critical infrastructure protection, Anonymity networks, Security education, Privacy issues.
Last Updated: Dec 4, 2020 2:02 PM