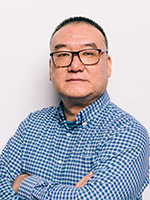 Ninghui Li
Professor of Computer Science
Associate Department Head
Joined department: 2003
Education
PhD, New York University, Computer Science (2000)
MS, New York University, Computer Science (1998)
BS, University of Science and Technology of China, Computer Science (1993)
Ninghui Li is a Samuel D. Conte Professor of Computer Science at Purdue University. He received a Bachelor's degree from the University of Science and Technology of China (USTC) in 1993, and a Ph.D. in Computer Science from New York University in 2000. His research interests are in security and privacy, and he has published over 200 referred papers in these areas. His 2007 paper ``t-Closeness: Privacy Beyond k-Anonymity and l-Diversity'' received the ICDE 2017 Influential Paper award.
He is Editor-in-Chief for ACM Transactions On Privacy and Security since October 2020, and has served as Program Chair for several leading conferences in the field, including ACM CCS, ESORICS, ACM ASIACCS, ACM SACMAT, and IFIP TM. He served as Chair of ACM Special Interest Group on Security, Audit and Control (SIGSAC) from 2017 to 2021, and Vice Chair from 2013 to 2017. He is ACM Fellow and IEEE Fellow.
Prof. Li's research has been supported by multiple NSF grants, including an NSF CAREER award in 2005. His research has also been supported by Air Force Office of Scientific Research (AFOSR), Army Research Office (ARO), National Security Agency (NSA), IBM Research, Google, and Samsung. He collaborated with Dr. Bertino on NSF and AFOSR funded projects.

Selected Publications
Tianhao Wang, Jeremiah Blocki, Ninghui Li, Somesh Jha: Locally Differentially Private Protocols for Frequency Estimation. USENIX Security Symposium 2017: 729-745
Ninghui Li, Min Lyu, Dong Su, Weining Yang: Differential Privacy: From Theory to Practice. Synthesis Lectures on Information Security, Privacy, & Trust, Morgan & Claypool Publishers 2016, pp. 1-138
Ninghui Li, Qihua Wang: Beyond separation of duty: An algebra for specifying high-level security policies. Journal of the ACM 55(3): 12:1-12:46 (2008)
Ninghui Li, Tiancheng Li, and Suresh Venkatasubramanian. t-Closeness: Privacy Beyond k-Anonymity and l-Diversity. ICDE 2007.
Ninghui Li, John C. Mitchell, and William H. Winsborough: Beyond Proof-of-compliance: Security Analysis in Trust Management, Journal of the ACM, 52(3):474--514, May 2005
Last Updated: Dec 4, 2020 1:55 PM