Timon Hoebert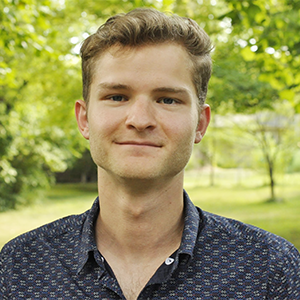 Purdue CS
: Tell us about yourself.
TH
: My name is Timon Hoebert and I am a graduate student from Vienna, Austria. Last year I earned my Bachelor with Honors degree from the University of Technology Vienna, where I am currently enrolled as a master's student, majoring in the field of Visual Computing. As an outdoor person, I like to spend my spare time in the mountains and I have a particular affection for rock-climbing. 
Purdue CS
: How did you become interested in computer science and research?
TH
:I have always been interested in engineering; therefore, it was always clear to me that I wanted to attend an Austrian technical high school and focus on the subject of computer science. There I started programming at the age of 14. Since I enjoy solving CS problems, I decided to dedicate my professional future to it. This is also how I became interested in robotics and visual computing, which led me to my studies and my current research occupation at the Practical Robotics Institute Austria. 
Purdue CS
: What are your future plans in the CS industry?
TH
: Currently, I appreciate the involvement in academia and I am interested in pursuing a PhD. On the other hand, ruling out a future in the industry is also hard since the creation of useful tools is one of my main motivations. 
Purdue CS
: What are you working on during the GoBoiler Internship?
TH
: I am working with Professor
Daniel Aliaga
, where I am going to work with his research group, visualization and computer graphics. We are finalizing my project now and I am convinced that my participation in the group's multi-disciplinary environment will allow me to develop my academic and technical skills. 
Purdue CS
: What influenced you to apply for the GoBoiler Internship?
TH
: I first learned of the internship program in 2017, when I met Purdue CS's previous department head,
Sunil Prabhakar
at my home university in Vienna. He spoke with me about Purdue's Honors College and the importance of promoting excellence in computer science. It felt like the perfect opportunity which would significantly contribute to my future academic and professional success.
Last Updated: Aug 6, 2019 2:17 PM