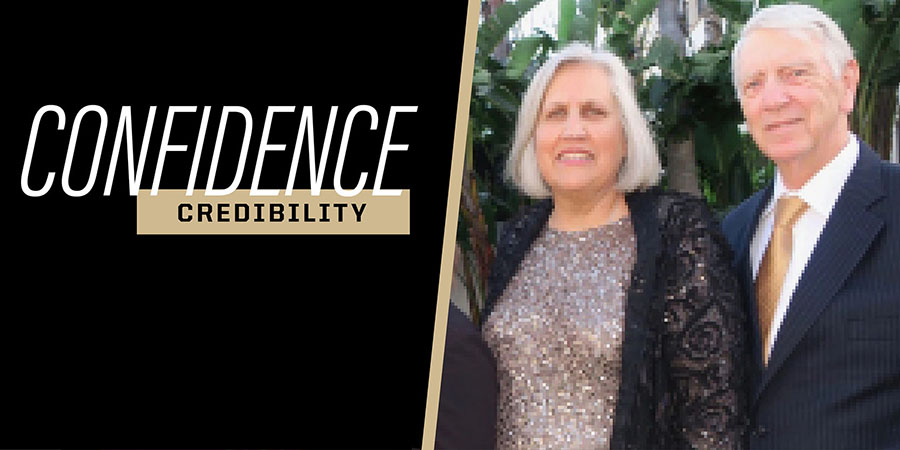 Anne Schowe
In 2014, the Department of Computer Science presented Anne Schowe with the department's highest award, naming her Distinguished Alumna.
Originally from Fort Wayne, Indiana, Schowe's thirty-year career in the computer industry led her around the nation, as she and her husband Tom (a graduate from the College of Technology '71) put down roots in Illinois, Minnesota, Tennessee, and New Jersey where their daughter Christina was born (also a proud Boilermaker and 2006 graduate from the College of Liberal Arts) before settling in her current home of California.
A life-long learner, Schowe earned her bachelor's degree in computer science from Purdu University in 1972.  She also earned a Masters of Science in computer science from Northwestern University and an MBA from the University of St. Thomas in St. Paul, Minnesota. She conducted her post-retirement coursework at Purdue – studying human biology, neurobiology, genetics, and biochemistry.
In addition to her academic career, Schowe achieved an impressive career history, in the course of nearly thirty years. Beginning at AT&T Bell Laboratories in 1972, she was a member of the technical staff who worked on an early Computer Aided Design and Diagnosis system for digital switching systems.
From Bell Labs, Schowe moved to Control Data Corporation where she was Advanced Systems Program Manager in the Energy Management Systems Division that developed turnkey monitoring and control systems for power utility companies. Control Data honored Anne with its Sustained Management Excellence Award in 1979.
In 1982, she returned to AT&T and it's subsidiary, Lucent Technologies, where she held several positions in marketing, strategy and general management in the semiconductor business. As managing director of the Visual Solutions Business Unit, she led an organization responsible for developing chipsets for digital video conferencing, digital TV, and HDTV.
Schowe moved to Sun Microsystems as vice president and general manager for Interactive Systems in 1994, where her business unit developed an early streaming video server. She held several executive positions in Sun's systems business, before her retirement in 2000. In 1999, she was honored with a YWCA Tribute to Women in Industry Award.
Schowe is a former chairperson of the advisory board of the Johns Hopkins Center for Talented Youth. She also served on the Purdue Parent's Council, and the advisory boards of the Purdue College of Science and the North Carolina State University School of Computer Science. She is currently a member of the advisory board for Purdue University's Global Policy Research Institute and board chair of the Planned Parenthood Action Fund of Santa Barbara,Ventura, and Luis Obispo counties in California.
Last Updated: Mar 2, 2022 1:05 AM