Conference on Scientific Computing and Approximation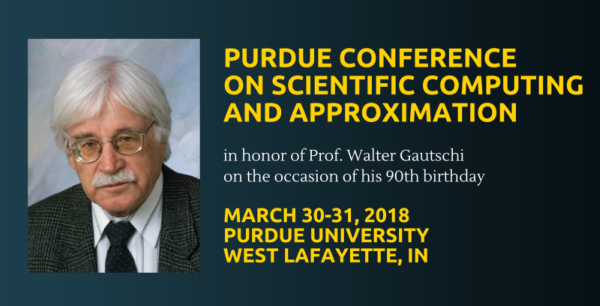 Registration for this event has closed.
This conference will honor the continuing work of Walter Gautschi (Professor Emeritus of Computer Science and Mathematics at Purdue University), one of the world's leading scientists in the area of numerical analysis, approximation theory, and special functions. There is no cost to attend. 
Conference Themes
Scientific Computing
High-Performance Computing
Polynomials and Orthogonal Systems
Approximation Theory and Algorithms 
Keynote Speakers
Ron Devore, Texas A&M
Nick Higham, Manchester
Gradimir Milovanović, Serbian Academy of Sciences and Arts
Call for Presentations
We welcome the participation of colleagues, especially early-career researchers, post-doctoral fellows and graduate students. A few slots are available for talks, and many more for poster presentations. 
To participate and present your work, please contact the organizers (listed below) by Jan. 29, 2018.
Alex Pothen (Computer Science) apothen@purdue.edu
Jie Shen (Mathematics) shen7@purdue.edu
Associated Events
March 30: Reception and dinner for all registered conference participants
March 29: Nick Higham delivers the Conte Distinguished Lecture at 2 P.M. in LWSN 1142
Last Updated: Mar 29, 2018 4:51 PM