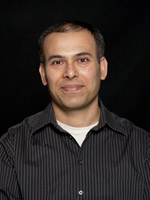 Saurabh Bagchi
Professor of Electrical and Computer Engineering
Professor of Computer Science (courtesy)
Joined department: 2004
Education
BS, Indian Institute of Technology, Kharagpur, Computer Science & Engineering (1996)
MS, University of Illinois at Urbana-Champaign, Computer Science (1998)
PhD, University of Illinois at Urbana-Champaign, Computer Science (2001)
Professor Bagchi's research interests are in the areas of large-scale distributed systems, reliable and secure systems, and dependable wired and wireless computer networks. He is a Professor in the School of Electrical and Computer Engineering and the Department of Computer Science (by courtesy) at Purdue University in West Lafayette, Indiana. He is an ACM Distinguished Scientist (2013), a Senior Member of IEEE (2007) and of ACM (2009), a Distinguished Speaker for ACM (2012), an IMPACT Faculty Fellow at Purdue (2013-14), and an Assistant Director of the CERIAS security center at Purdue. He is the Cybersecurity Lead for the NSF Center at Purdue called NEEScomm. His work on fault tolerance in distributed systems has been rewarded with recognition of best papers or runner-up awards at several conferences (Sensys 2011, Supercomputing 2012, 2009, SecureComm 2008, etc.) and through the Seed for Success award at Purdue University twice. He is proudest of the 11 PhD students who have graduated from his research group and have gone on to wonderful careers in industry or academia.
Selected Publications
Gaspar Modelo-Howard, Christopher Gutierrez, Fahad Ali Arshad, Saurabh Bagchi, and Yuan Qi, "pSigene: Webcrawling to Generalize SQL Injection Signatures", At the 44th Annual IEEE/IFIP International Conference on Dependable Systems and Networks (DSN), pp. 1-12, June 23-26, 2014, Atlanta, GA.
Subrata Mitra, Ignacio Laguna, Dong H. Ahn, Saurabh Bagchi, Martin Schulz, and Todd Gamblin, "Accurate Application Progress Analysis for Large-Scale Parallel Debugging", At the ACM International Symposium on Programming Language Design and Implementation (PLDI), pp. 193-203, Edinburgh, UK, June 9-11, 2014.
Bowen Zhou, Jonathan Too, Milind Kulkarni, and Saurabh Bagchi, "WuKong: Automatically Detecting and Localizing Bugs that Manifest at Large System Scales", At the 22nd International ACM Symposium on High Performance Parallel and Distributed Computing (HPDC), pp. 131-142, New York City, New York, June 17-21, 2013.
Last Updated: Dec 4, 2020 1:55 PM