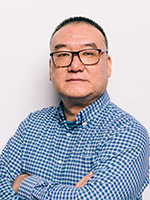 Ninghui Li
Professor of Computer Science
Joined department: 2003
Education
PhD, New York University, Computer Science (2000)
MS, New York University, Computer Science (1998)
BS, University of Science and Technology of China, Computer Science (1993)
Ninghui Li is a Professor of Computer Science at Purdue University. He has been doing research in security and privacy, including data privacy, applied cryptography, access control, trust management, and human factors in security and privacy. He has published over 150 referred papers in these areas. His 2007 paper ``t-Closeness: Privacy Beyond k-Anonymity and l-Diversity'' recently received the ICDE 2017 Influential Paper award.
Prof. Li was elected Chair of ACM Special Interest Group on Security, Audit and Control (SIGSAC) in 2017. From 2013 to 2017, he served as SIGSAC's Vice Chair. He is on the editorial boards of ACM Transactions on Privacy and Security (TOPS), Journal of Computer Security (JCS), and ACM Transactions on Internet Technology (TOIT); and was on the editorial board of IEEE Transactions on Dependable and Secure Computing (TDSC) from 2011 to 2015 and the VLDB Journal from 2007 to 2013.
Prof. Li has served on the Program Committees of over 150 international conferences and workshops in computer security, databases, and data mining. In 2014 and 2015, he has served as the Program Chair for ACM Conference on Computer and Communications Security (CCS), ACM's flagship conference in the field of security and privacy.
Prof. Li's research has been supported by multiple NSF grants, including an NSF CAREER award in 2005. His research has also been supported by Air Force Office of Scientific Research (AFOSR), Army Research Office (ARO), National Security Agency (NSA), IBM Research, Google, and Samsung. He collaborated with Dr. Bertino on NSF and AFOSR funded projects.
Selected Publications
Ninghui Li, Wahbeh H. Qardaji, Dong Su, Yi Wu, Weining Yang, "Membership privacy: a unifying framework for privacy definitions", ACM Conference on Computer and Communications Security 2013: 889-900
Ziqing Mao, Ninghui Li, Hong Chen, Xuxian Jiang, "Combining Discretionary Policy with Mandatory Information Flow in Operating Systems", ACM Trans. Inf. Syst. Secur., 14(3): 24 (2011)
Ninghui Li, John C. Mitchell, and William H. Winsborough, "Beyond Proof-of-compliance: Security Analysis in Trust Management", Journal of the ACM, 52(3):474--514, May 2005
Ninghui Li, Tiancheng Li, and Suresh Venkatasubramanian. t-Closeness: Privacy Beyond k-Anonymity and l-Diversity. ICDE 2017.
Last Updated: Dec 4, 2020 1:55 PM