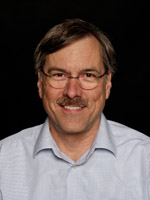 George B. Adams, III
Professor of Practice of Computer Science
Joined department: Fall 2014
Education
BS, Virginia Polytechnic Institute and State University, Electrical Engineering (1978)
MS, Purdue University, Electrical Engineering (1980)
PhD, Purdue University, Electrical Engineering (1984)
Dr. Adams joined the Research Institute for Advanced Computer Science at NASA Ames Research Center (1983-1987), where his work focused on high-performance computing for scientific applications. He was a Visiting Lecturer at Stanford University in 1986. Returning to Purdue University, he has held positions in the School of Electrical and Computer Engineering and Discovery Park.
He was named an Outstanding Instructor by General Motors (1994) and the National Technological University (1996 and 2002) for his Purdue University distance education courses. He received the Eaton Award in Design Excellence as the Faculty Mentor from the School of Electrical and Computer Engineering, Purdue University (2007). He has received Favorite Faculty nominations by students living in Purdue University residences (2015, 2017, and 2018). He received the College of Science Outstanding Teacher Award for 2016-2017 and 2017-18, given by the Purdue Student Science Council. He received the Purdue University Department of Computer Science ACM Faculty Award for 2018 and is faculty advisor to the student chapter of ACM. He was inducted as a Fellow of the Purdue University Teaching Academy in September 2019.
Selected Publications
Alex Berryman, Prasad Calyam, George B. Adams III, Douglas Comer, and Joe Cecil, "Advanced Manufacturing Use Cases and Early Results in GENI Infrastructure,"
Second GENI Research and Educational Experiment Workshop
, 2013.
(url)
Gerhard Klimeck, Michael McLennan, Sean B. Brophy, George B. Adams III, and Mark S. Lundstrom, "nanoHUB.org: Advancing Education and Research in Nanotechnology,"
Computing in Science & Engineering
, September/October 2008.
(url)
Yinong Zhang and George B. Adams III, "Performance Modeling and Code Partitioning for the DS Architecture,"
International Symposium on Computer Architecture (ISCA-25)
, June 1998.
(url)
Last Updated: Dec 4, 2020 1:55 PM