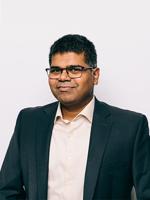 Aniket Kate
Associate Professor of Computer Science
Joined department: Fall 2015
Aniket Kate is an applied cryptographer and a privacy researcher. His research builds on and expands applied cryptography, distributed computing, and data-driven analysis to solve security/privacy problems in decentralized environments.
His current projects focuses on communication freedom, distributed ledgers (or blockchains), and multi-party computation.
Selected Publications
Debajyoti Das, Sebastian Meiser, Esfandiar Mohammadi, and Aniket Kate: Anonymity Trilemma: Strong Anonymity, Low Bandwidth, Low Latency---Choose Two. IEEE Symposium on Security and Privacy (Oakland), 2018.
Pedro Moreno-Sanchez, Navin Modi, Raghuvir Songhela, Aniket Kate, and Sonia Fahmy: Mind Your Credit: Assessing the Health of the Ripple Credit Network. The Web Conference (WWW), 2018.
Giulio Malavolta, Pedro Moreno-Sanchez, Aniket Kate, Matteo Maffei: SilentWhispers: Enforcing Security and Privacy in Decentralized Credit Networks. NDSS 2017
Tim Ruffing, Aniket Kate, and Dominique Schroeder: Liar, Liar, Coins on Fire! -- Penalizing Equivocation By Loss of Bitcoins. ACM CCS, 2015.
Last Updated: Dec 4, 2020 1:55 PM