Purdue and Ativio Partner to Train Students in Working Internationally
01-05-2012
During the Fall 2011 semester, four Purdue Computer Science students took part in a pilot class in international collaborative software development. Under the direction of Chris Riester, President and CEO of Ativio, and CS Professor Buster Dunsmore, the class provided opportunities for students to work with other CS students in both India and Botswana. (The Botswanan class was supervised in part by Purdue University Krannert School of Management alumnus Nikhil Mistry, Ativio's President of Africa Operations.)
A news release written by Mary Dieter and titled "Ativio partners with Purdue, IUPUI, Rose-Hulman to train Computer Science students to work internationally" is reprinted below. Accompanying photographs were provided by Chris Riester.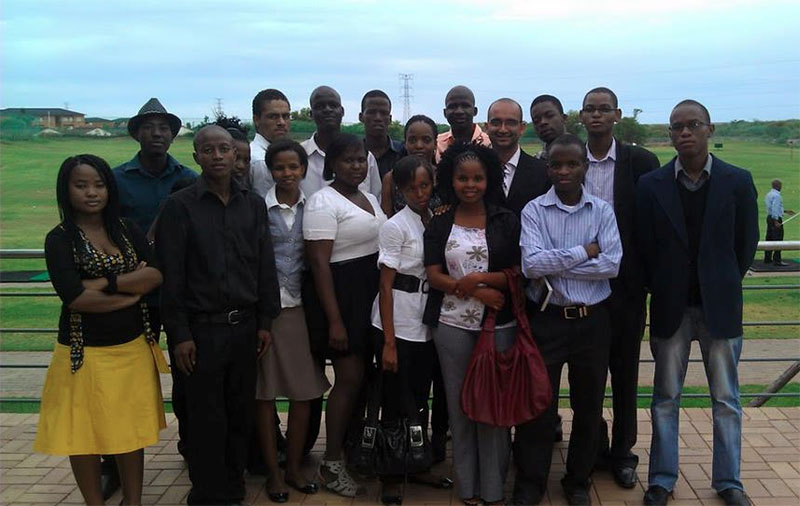 Ativio partners with Purdue, IUPUI, Rose-Hulman to train Computer Science students to work internationally
Chris Riester knew firsthand that software developers, including his company, Ativio LLC, were frustrated that new computer science graduates rarely had crucial international experience.
So Riester, president and chief executive officer of Ativio, an international software development company, decided to do something about it.
The result was an unusual partnership between his company and Purdue University, which piloted during the fall semester a class taught by Riester in West Lafayette that afforded students the opportunity to work as a team with their counterparts in India and Botswana, a country in southern Africa, to develop software. Ativio has offices in those countries.
The class will continue at Purdue for the spring semester. Indiana University-Purdue University Indianapolis and Rose-Hulman Institute of Technology also will be piloting the class in the spring, while classes will be offered at four universities in Botswana and four or five in India.
Sixty-four students – four in West Lafayette and the rest in the other countries – participated in the fall semester. The goal for the spring is to have 1,120 students, including 40 American students in the classroom and 120 interns working for 12 weeks for Ativio.
Riester conceived of the idea after trying, unsuccessfully, to hire a new software developer. None of 20 or 30 applicants had international experience. Ativio is used to training new hires, but it's risky; an inexperienced hire may not like working across time zones for any number of reasons and training costs are high.
That won't be the case for students who have taken this course for their senior project at Purdue or its equivalent class at IUPUI and Rose-Hulman. They'll have had the experience and will know if international teamwork is something they want to pursue.
"Students need to understand that the ability to work internationally is really important. Except for the very few American students who can afford to study abroad, most of our young people lack that experience, and we are falling behind as a nation," Riester said. "If we do not get on the stick, then the other countries will be walking all over us and we'll never regain the ground we lost in the dot-com bust and after 9-11."
Dr. H.E. "Buster" Dunsmore, an associate professor of computer science at Purdue, said most computer science graduates go to work for large, global companies. The school's corporate partners have advised that students need more international experience, but the university was hard pressed to provide it unless students study abroad.
"Even better than that would be the opportunity for all students to do software development in an international setting," he said. "This class provides that opportunity."  
Matthew Sutherlin, 24, of Crawfordsville, said that "earning international team experience is invaluable. The world is getting much smaller very quickly. Having any sort of international experience sticks out from the crowd.
"One of the best lessons I learned was to plan, plan, and then plan some more. Coordinating an international team is very different than a team in the U.S. Time zones, language barriers, concept barriers and more really require for the team to plan for obstacles."
Thomas Maley, 27, of Knightstown, agreed that "the importance of planning is the most important lesson I learned. I wasn't the only one who reflected, at the end of the project, that we could have used more time for planning. Much of the time that was supposed to be spent planning was absorbed by the early confusion of getting to know and work with a new group from different cultures."
He and Sutherlin both graduated in December.
Dunsmore said that students who take the class likely will have an advantage when interviewing with prospective employers. And institutions that offer it likely will stand out too.
"I can't think of any other university that has this capability," Dunsmore said. "It's something that, through Chris Riester and Ativio, we have available that other universities don't."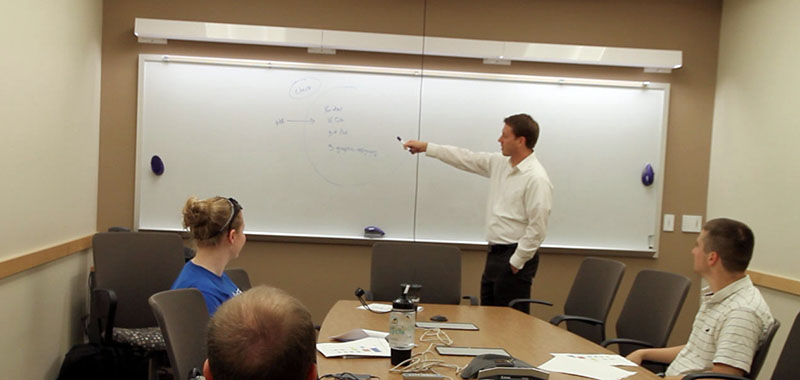 Last Updated: Jun 29, 2023 3:59 PM