Prabhakar Named Head of Department of Computer Science
06-18-2012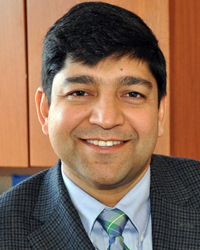 Sunil Prabhakar will assume the role of Head of the Purdue University Department of Computer Science in a permanent capacity, effective immediately. He has served as Interim Department Head since September 2010. On Friday, June 15, 2012, College of Science Dean Jeffrey Roberts announced that Prabhakar has been appointed Head of the Department of Computer Science for an initial term extending through the end of the 2016-2017 academic year.
"Anyone who has worked with Sunil, especially these last two years in his role as Interim Head, appreciates that he has the energy, drive, and leadership qualities to serve as a permanent Head of the Department," Roberts said in his announcement to the faculty, staff, and students of Purdue Computer Science.
Roberts also thanked the members of the Head Search Committee - Chair Mike Atallah, Elisa Bertino, Greg Frederickson, Ananth Grama, and Tim Zwier - "for their diligent and effective work."
Prabakar joined the Department in the Fall of 1998. Previously, he earned his B.Tech. in Electrical Engineering from the Indian Institute of Technology and M.S. and Ph.D. degrees in Computer Science from the University of California, Santa Barbara. His research focuses on developing database systems for handling uncertain data, and performance and integrity issues in large-scale, modern database applications.
The entire Department of Computer Science joins Dean Roberts in congratulating Professor Prabhakar on this appointment.
Last Updated: Jun 29, 2023 2:11 PM