Prabhakar Announced as Computer Science Interim Head
09-30-2010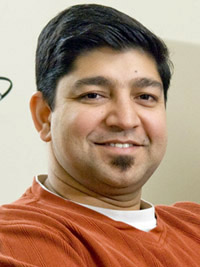 Dean Jeffrey Roberts announced on Monday, September 20, 2010, the appointment of Prof. Sunil Prabhakar as Interim Head of the Department of Computer Science.  Prabhakar replaces Prof. Aditya Mathur, who resigned as head on September 9th, to return to his regular faculty duties.   In accepting the assignment, Prabhakar acknowledged Mathur's accomplishments during his time as head, and thanked him for his dedication and efforts on behalf of the department.
Prabhakar received his Bachelor of Technology in Electrical Engineering from the Indian Institute of Technology, and his Master of Science and PhD in computer science from the University of California. He joined the department in 1998.  His research focuses on developing database systems for handling uncertain data, and performance and integrity issues in large-scale, modern database applications.
Dean Roberts also announced that a search for a new, permanent head of Computer Science would begin shortly.
Last Updated: May 17, 2017 11:00 AM