Clifton Receives Teaching for Tomorrow Award
06-21-2011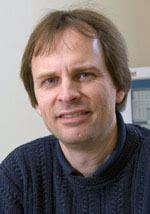 Professor Chris Clifton was recently selected as one of the two senior faculty members across campus to receive Purdue's Teaching for Tomorrow Fellowship Award (Senior Faculty Category). The Teaching for Tomorrow Award is provided by the Classes of 1944 and 1945 to foster continued excellence in teaching and learning and to facilitate the development of the teaching potential of the faculty at Purdue University. Annually, it recognizes up to twelve assistant professors for their demonstrated talent for teaching and three senior faculty members for their long-term contributions to teaching at the University.
Beginning in August 2011, Dr. Clifton will serve as a team leader for the thirteen junior faculty awardees selected in 2011 and help them develop and improve teaching techniques and philosophies. The Teaching for Tomorrow program will provide faculty development funds to members of the class for further enhancement of their skills as teacher-scholars.
Dr. Clifton is an associate professor of computer science and statistics (by courtesy) at Purdue University. His research addresses challenges posed by novel uses of data mining technology, including privacy-preserving data mining, data mining of text, and data mining techniques applied to interoperation of heterogeneous information sources. Prior to joining Purdue in 2001, Dr. Clifton was a principal scientist in the Information Technology Division at the MITRE Corporation. Before joining MITRE in 1995, he was an assistant professor of computer science at Northwestern University.
Congratulations to Professor Clifton on receiving the honor!
Last Updated: May 19, 2017 9:06 AM