CS Group's Award Winning Business Plan
05-06-2010
Computer Science researchers along with Krannert strategists developed an award winning business plan for organizing expertise information. The Pinta group is organizing expertise information by developing software that will search experts by topic. The software will also recommend information relevant to an expert by area of interest by using techniques based on artificial intelligence.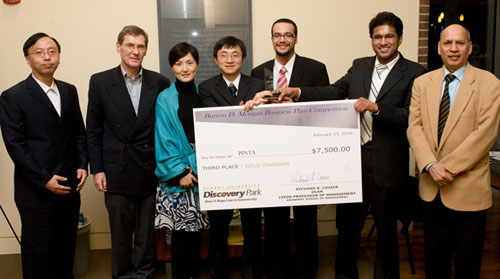 Pinta is comprised of four student members and four faculty members. Yi Fang and Suli Xi are PhD students in Computer Science, Anthony Sharpe is a Finance MBA student and Nadim Ahmed is a marketing MBA student, both at Purdue. Faculty involved with Pinta include John Schneider, Assistant Vice President for Industry Research at Purdue; Jeff Vitter, a Professor of Computer Science and engineering at Texas A&M University in College Station, Luo Si, Assistant Professor of the Department of Computer Science at Purdue; and Aditya Mathur, Professor and head of the Department of Computer Science at Purdue.
Pinta placed 3rd place in the Burton Morgan Business Plan Competition in spring 2010. Pinta is pictured from left to right: Prof. Luo Si (CS),  Prof. Matthew Lynall (Krannert),  Prof. Charlotte Ren (Krannert), Yi Fang (CS), Anthony Sharpe (Krannert), Nadim Ahmed (Krannert) and Prof. Aditya Mathur (CS). More information about Pinta and their research is available in the spring 2010 Purdue Catalyst Newsletter (PDF).
Last Updated: Jun 29, 2023 4:15 PM