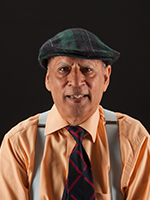 Aditya P. Mathur
Professor Emeritus
Joined department: 1987
Education
BE (Hons), Birla Institute of Technology and Science, Electrical Engineering (1970)
MS, Birla Institute of Technology and Science, Electrical Engineering (1972)
PhD, Birla Institute of Technology and Science, Computer Science (1977)
Aditya Mathur's research and development activities span the areas of software testing, reliability, formal approaches for software process control, information retrieval, and the design of secure critical infrastructure including water and power plants.
Software testing and reliability: Mathur has been a crusader for the use of code coverage criteria in the estimation of software reliability or as an orthogonal metric to assess confidence in the reliability estimates. He has proposed the "Saturation Effect" as a motivating device, and as a fundamental principle, for the quantitative test assessment using an increasingly powerful suite of criteria. This device is often used by vendors to enhance marketing of their test tools. Mathur, in collaboration with Raymond DeCarlo, has pioneered research into the use of feedback control in software development. This research has led to the development of a new area now known as Software Cybernetics.
Information retrieval: Mathur, in collaboration with Luo Si's research group and IT specialist Jason Fish, is the prime architect of the INDURE expertise search system. This system is in use at four universities in the state of Indiana and serves as a model for expertise search systems under development in other states.

Design of secure Critical Infrastructure: Mathur has led the establishment of one-of-a-kind set of testbeds to support research in the design of Critical Infrastructure including those for water treatment, water distribution, and electric power. These testbeds have served as a significant component in Mathur's work with his graduate students and research staff. This work has led to mechanisms for detecting process anomalies caused by cyber-physical attacks. These mechanisms have been successfully demonstrated on fully operational and realistic testbeds.

Books: Mathur has authored several textbooks. His most well known book "Introduction to Microprocessors" was first published in 1980 by Tata McGraw Hill. This book, the first on the subject in India, and one of the earliest in the world, led to the initiation and subsequent proliferation of undergraduate courses in microprocessors. The third edition of this book was released in 1989 and is now in its 36th reprint. His book titled``Foundations of Software Testing" was published by Addison Wesley Professional in 2008 and its second edition was released in 2013. In collaboration with Barry Wittmann and Tim Korb, Mathur has coauthored"Start Concurrent: An Introduction to Problem Solving in Java with a Focus on Concurrency."This book is intended to serve as a text in freshman programming courses.
Selected Publications
Sridhar Adepu and Aditya Mathur. ``Distributed Attack Detection in a Water Treatment Plant: Method and Case Study",  IEEE Transactions on Dependable and Secure Computing Publication Date: JANUARY/FEBRUARY 2021, Volume: 18, Issue: 1, pp. 86-99.
---
Gauthama Raman Mani Iyer Ramani, Wenjie Dong, and Aditya Mathur, ``Deep Autoencoders as Anomaly Detectors: Method and Case Study in a Distributed Water Treatment Plant," Computers & Security, Volume 99, December 2020, 102055.
Muhammad Azmi Umer, Aditya Mathur, Khurum Nazir Junejo, Sridhar Adepu: ``Generating invariants using design and data-centric approaches for distributed attack detection," Int. J. Crit. Infrastructure Prot. 28: 100341 (2020)
Sridhar Adepu, Nandha Kumar Kandasamy, Jianying Zhou, and Aditya Mathur, ``Attacks on smart grid: power supply interruption and malicious power generation," Int. J. Inf. Sec. 19(2): 189-211 (2020)
Chuadhary Mujeeb Ahmed, Gauthama Raman Mani Iyer Ramani, and Aditya Mathur. `Challenges in Machine Learning based approaches for Real-Time Anomaly Detection in Industrial Control Systems, 6th ACM Cyber-Physical System Security Workshop (CPSS 2020) [Accepted to the workshop as the ``Best paper"] 
Last Updated: Dec 4, 2020 1:55 PM