Workshops to Spark Girls' Interest in Computer Technology
12-08-2009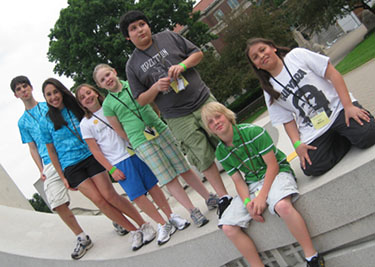 Students in grades 4-6 who enjoy computers are invited to attend a series of information technology workshops sponsored by Purdue University's College of Science.
The Are You Smarter than Your Fifth Grader? program, developed by Purdue's computer science outreach staff, will feature software design and other computer technology related activities for parent/child pairs. The free workshops will take place from 9 a.m. to 1 p.m. on the January 9th, 23rd, February 6th and February 20th in Purdue's Lawson Computer Science Building.
"By offering fun graphic design programs such as the ALICE Storytelling Challenge and the Pico Cricket Design Studio at this age level, our hope is that the workshop activities will encourage students, especially young girls, to seek computer science opportunities in high school and to consider it as a college discipline," said Mindy Hart, Department of Computer Science K-12 Outreach Coordinator. "Adding a unique aspect to outreach, we will engage parents alongside their children so they can share the joy of technology and encourage their child to pursue this interest outside the walls of school."
Lunch will be served, during which guest speakers will discuss technology related topics or special computer science related events will be held. Participants also will receive a Pico Cricket Design Kit valued at $250. For more information, contact Hart at (765) 494-7802. Registration forms can be downloaded at the CS Outreach webpage.
The program is funded through a Motorola Foundation Innovation Generation Grant. The Motorola Foundation's Innovation Generation grants support programs that engage students in science, technology, engineering and math (STEM) to build the confidence and skills they need for success both now and in the long-term. In 2009, the Motorola Foundation is providing $5 million in grants to support out-of-school programming, teacher training, curriculum development and other programs that spark students' interest in STEM. By introducing concepts of computer science to young students, Purdue Computer Science is working with the Motorola Foundation to increase access to STEM education and equip students for successful futures. Introducing students to the real-world application of concepts they learn in the classroom strengthens problem-solving skills, increases knowledge retention and opens their eyes to the possibilities associated with pursuing careers in those fields.
"Innovation Generation programs make science and math both real and fun for today's students, bringing to life what they hear from their teachers every day," said Eileen Sweeney, director of the Motorola Foundation. "The work Purdue Computer Science is doing to engage students in these subjects will help our next generation to succeed in a global, knowledge-based economy where critical thinking is no longer just a benefit, but a necessity."
Last Updated: Jun 28, 2023 4:25 PM