Spafford Receives CRA Service Award
05-05-2009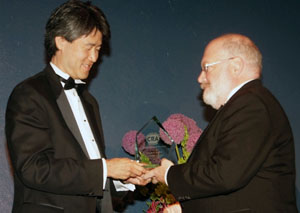 Professor Eugene Spafford has been awarded the 2009 Computing Research Association (CRA) Distinguished Service Award. This award is presented to an individual who has shown outstanding service to the computing research community. Spafford' s selection is attributed to his role as a "tireless advocate for the cause of information security research." The award will be presented on June 27 at the ACM Awards Banquet in San Diego.
Spafford's current research interests are focused on issues of computer and network security, cybercrime and ethics, and the social impact of computing. He is the founder and executive director of the Center for Education and Research in Information Assurance and Security (CERIAS). This university-wide institute addresses the broader issues of information security and information assurance, and draws on expertise and research across all of the academic disciplines at Purdue.
Spafford was recently awarded the Upsilon Pi Epsilon Abacus Award and selected by the U.S. Secretary of Defense to serve on the U.S. Air Force Air University Board of Visitors.
Last Updated: May 11, 2017 4:12 PM