Spafford Selected by Secretary of Defense
02-09-2009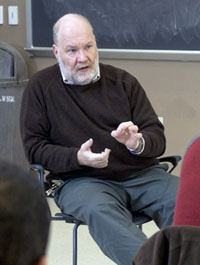 Professor Eugene Spafford has been selected by the U.S. Secretary of Defense to serve on the U.S. Air Force Air University Board of Visitors. The board is comprised of leading authorities in air power, defense, management, leadership, and academia, and are appointed by the Secretary of Defense. Members advise Air University on educational, doctrinal, and research policies.
Air University institutions include the Air War College; Air Command and Staff College; Squadron Officer College; College of Aerospace Doctrine, Research and Education; Ira C. Eaker College for Professional Development; School for Advanced Air and Space Studies, Air Force Officer Accession and Training Schools; Community College of the Air Force; and several other support organizations. It also supports the Civil Air Patrol. Additionally, Air University manages the College for Enlisted Professional Military Education, which includes the Air Force Senior Noncommissioned Officer Academy and the Air Force Institute for Advanced Distributed Learning.  Another important part of Air University is the Air Force Institute of Technology located at Wright- Patterson Air Force Base, Ohio
Spafford's research interests include issues of computer and network security, cybercrime and ethics, and the social impact of computing. He is the founder and executive director of the Center for Education and Research in Information Assurance and Security (CERIAS) at Purdue University. Spafford has recently been awarded the Upsilon Pi Epsilon Abacus Award.
Last Updated: May 11, 2017 4:11 PM