CS MIRA Finalists
05-19-2009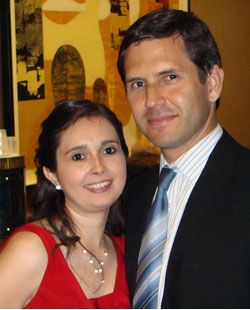 Professor Daniel Aliaga, Purdue CS K-12 Outreach, and Purdue Surprising Possibilities Imagined and Realized through Information Technology (SPIRIT) were selected as finalists for the 2009 TechPoint MIRA Awards. The MIRA Awards Gala took place on Saturday, May 16 at the Indianapolis Downtown Westin. The MIRA awards are given annually to recognize Indiana's trailblazers in technology.
Aliaga's outstanding contributions to computer graphics placed him as a finalist in the Education Contribution to Technology by an individual category. Recently he developed a fundamentally new method to visually alter important and historically-significant cultural property leading to high-quality virtual restorations and visual learning: "Changing the Past: Virtual Restoration of Cultural Heritage Artifacts". This process never alters the actual object but accomplishes the restoration by the the careful use of digitally-projected and colored light from projectors. Enhancements of the objects provide a strong and compelling visual experience which helps with educational objectives for students of archaeology, history, or K-12 attendees of a museum, for example.
CS Professor Buster Dunsmore is a Co-Principal Investigator of SPIRIT. SPIRIT was selected as a finalist in the category of Educational Contribution to Technology by a Department, Program or Team. SPIRIT is a $1.19 million National Science Foundation project. The Principal Investigator is Prof. Alka Harriger, Department of Computer and Information Technology.  The second Co-PI is Prof. Kyle Lutes, also from Computer Technology. The objective of SPIRIT is to demonstrate to high school students, teachers, and guidance counselors that there are exciting careers in a number of information technology fields. The program consists of a 1-week summer camp for teachers and counselors followed by a 1-week summer camp for students. 
The Purdue CS K-12 Outreach Program, directed by Mindy Hart, earned finalist status in the Educational Contribution to Technology by a Department, Program or Team category. Through the program, Hart has emphasized the growing importance of integrating technology into K-12 curriculum, as well as teaching students about computing. Activities including Are You Smarter Than YOUR 5th Grader?, PicoCricket Design Studio, Adventures in Computer Science Summer Camps, Computer Science Concepts for Kids, Linking Mathematics and Computer Science Workshop, Programming With Lego Robotics, and Reaching Out for Computer Science impacted over 650 teachers and 3000 students in the past year alone.
Congratulations to Prof. Aliaga, Ms. Hart, and Prof. Dunsmore for the honor or being recognized as 2009 MIRA Award finalists.
Last Updated: Jun 29, 2023 4:09 PM