Tellabs Visits Visualization Lab
01-07-2008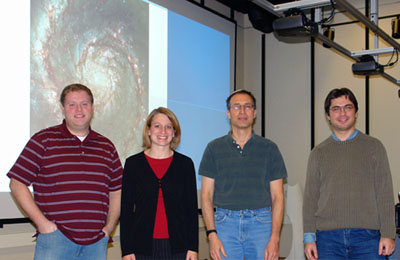 Meredith Hilt, Executive Director of Tellabs Foundation, recently visited the Visualization Lab in the Lawson Computer Science Building.  Tellabs provided significant funding to establish and equip this cutting edge facility.  Professor Elisha Sacks described the laboratory capabilities made possible by the support of Tellabs.  Graduate students Mihai Mudure and Paul Rosen demonstrated ongoing projects, including a 3D scene capture system and results of the World Trade Center attack simulation on the lab's large tiled display.  "We are grateful for the support by the Tellabs Foundation that allowed us to outfit the lab with cutting-edge equipment," said Prof. Chris Hoffmann.
The Purdue Graphics and Visualization group consists of five faculty members; Prof. Daniel Aliaga, Prof. Chris Hoffmann, Prof. Voicu Popescu, Prof. Elisha Sacks, and Prof. Xavier Tricoche; pursuing a broad range of scientific problems. Current projects from the group include Prof. Popescu's Effective Distance Learning Through Sustained Interactivity and Visual Realismand Prof. Tricoche's Visual Analysis of Complex Fluid Flow Phenomena.  The Visualization Lab and Purdue gained wide acclaim with the scientific 9/11 Attack Simulations and Visualizations directed by Profs. Popescu and Hoffmann.  The postings on YouTube garnered more than 3 million downloads of the World Trade Center simulation to-date.
For more information about the Purdue Computer Graphics and Visualization Lab and the many other projects conducted by the group visit the CGVLAB web site.
Last Updated: Jun 28, 2023 4:48 PM