2008 CS Summer Camps
07-11-2008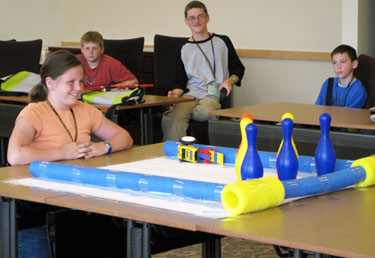 Students in grades six through nine joined the Purdue Computer Science Department for the annual CS Summer Camp June 15-21. It was fun times as the campers got to know each other and the field of computer science. They engaged in activities around campus, programming exercises, and a fun night on the town. The 2008 CS Summer Camp was sponsored in part by Caterpillar and Lockheed Martin.
Beginner Camp kicked off on June 15 with 28 participants. They participated in ice breaker activities, a campus scavenger hunt, and a lesson in Windows Movie Maker on day one of camp. Campers were excited to photograph their search for the Lawson Echo Spiral and the Neil Armstrong statue, among other landmarks. And how else should they celebrate the completion of their scavenger hunt than with the creation of a video using Windows Movie Maker.
After getting to know each other, and trying their hand in movie production, campers got right to work. Students learned programming in Alice on day two, and went for pizza and a movie that night. Day three of camp was dedicated to Lego robotics where students built and programmed their robots in small groups. The finished products then competed on the final day of camp during the Lego Challenge. Beginner Camp ended with a project showcase and recognition luncheon.
Eighteen advanced campers arrived on campus June 18. They got to know each other with a camp scavenger hunt where they found Purdue icons such as the Purdue Bell Tower and Pappy's Sweet Shop. They also learned to turn the photos from their adventure into a video using Windows Move Maker.
The stars of the Advanced Camp scavenger hunt movie had other exciting activities in store for them. Campers went into an Alice Frenzy on day two where they learned more advanced usage of the Alice programming language. That night campers went for pizza, billiards, and bowling for fun night. Day three ushered in Cybernetic Showdowns and Pico Crickets where campers developed projects merging design and technology. The Advanced Camp wrapped up with a project showcase and recognition luncheon.
The 2008 CS Summer Camp was another great mix of computer science and fun activities. The event was held in the Lawson Computer Science Building and saw many returning campers this year. Please visit the CS K-12 Outreach web page for more information about outreach activities.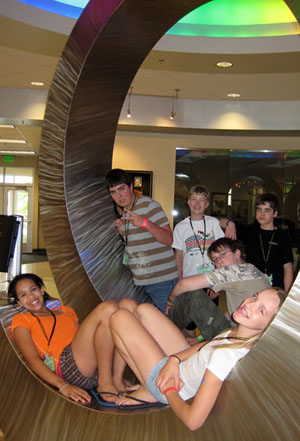 Last Updated: May 4, 2017 9:27 AM