Computer Science Summer Camp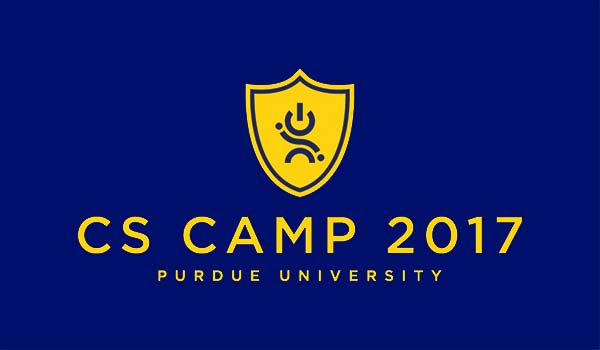 Purdue University is offering both middle school and high school summer camps in 2017. The camps will focus on introducing students to computational thinking and programming using computer security as a central theme. Students will explore ideas in cryptography, networks, and data security by using a variety of tools including Linux, Python, Scratch, Raspberry Pi and others. We welcome students from all areas and all levels of experience! Please make us part of your summer plans!

Computer Science Has Never Been So Much Fun!
Join us on our adventure with computer science! Campers will work in small teams to use programming to solve real-world problems, relying on professional practices, teamwork, and near-peer mentors to help them achieve their goals. A student participating in this camp will gain hands-on experience with programming, algorithms, problem solving, and app development.
Purdue's middle school camp is open to students who are entering grades 6, 7, or 8 by the Fall of 2017. For the high school camp, students should be entering grades 9, 10, or 11 by Fall 2017. No previous computer science or programming expertise is necessary, but campers should be comfortable using a computer. Return campers are welcomed and encouraged to build on the skills they have developed.
Dates
June 11th - 16th, 2017 (BOTH CAMPS)
Contact Phil Sands (psands@purdue.edu) with questions regarding this year's Computer Science Camp. Contact Kaitlin Floyd (kfloyd@purdue.edu) for information related to summer camps and accomodations at Purdue University.
Computer activities will take place in the Lawson Computer Science Building. These activities will be led by former high school computer science teacher Phil Sands, who now serves as Purdue University's computer science K-12 outreach coordinator. Joining him will be a mix of K-12 educators, Purdue computer science faculty, camp counselors and staff.

Purdue students serve as both lab assistants and camp counselors. The campers will be under 24-hour supervision as provided by camp staff. This is a residential, overnight camp with students staying in our dormitories overnight.

Camp will conclude with a project show-and-tell and a recognition luncheon that family may attend for an additional cost.

Camp is sponsored by the Purdue University Department of Computer Science in cooperation with our Corporate Partners Program. Special thanks are owed to the Capadona family for their generous financial contribution.
Last Updated: Apr 14, 2017 8:48 AM