Register for CS Summer Camp
05-13-2008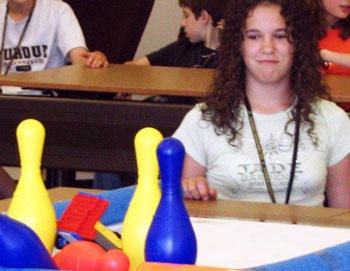 Purdue University Department of Computer Science is offering two camps for middle school students. Through hands-on projects students will have an opportunity to learn about web design, robotics, and computer programming languages. Campers will also learn how the exciting field of computer science contributes to so many successful careers. Enrollment is limited, and discounted registration is available until June 1.
The first camp is a beginner camp open to girls and boys entering grades 6, 7, or 8 in the fall of 2008. This camp runs from June 15-18. Students are not required to have previous programming experience, but should be familiar with a computer.
Purdue Computer Science Outreach Coordinator, Mindy Hart says, "Campers really get involved in the Lego Robotics and Alice programming we do in the beginner camp. It gives them a real sense of the field of computer science, and they feel like they know a little more about the things that impact their everyday life. We further build on this in the advanced camp where students learn more about the career paths and job responsibilities of a real computer scientist."
Advanced camp will be held June 18-21. It is open to girls and boys entering grades 7, 8 , or 9 in fall 2008. Students should have attended a previous session of the Computer Science Summer Camp or have some computer programming experience. Advanced camp will focus more on computer science concepts and languages such as Python, Alice, or JavaScript.
Purdue Computer Science Summer Camps will be held in the state-of-the-art Lawson Computer Science Building, and campers will stay in Hillenbrand Hall. The fee for participation in a CS Summer Camp is $325, or register by June 1 to receive an early registration discount. Details are in the full brochure (PDF).
To register visit the Computer Science Outreach page or complete and return the registration form on the brochure.
Last Updated: May 4, 2017 11:38 AM