15th Annual Awards Banquet
04-02-2007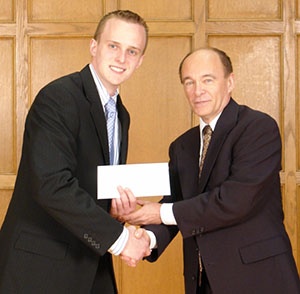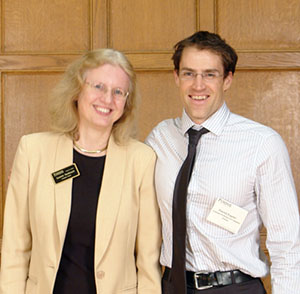 Picture 1: Prof. Buster Dunsmore congratulates Jonathan Micklos, a Crowe Chizek scholarship recipient.
Picture 2: Professor Susanne Hambrusch poses with Professor Patrick Eugster who received the Upper Body Strength Semaphore humor award.
Computer Science faculty, staff, and students celebrated the accomplishments of their CS friends and over $270,000 in awards with corporate guests at the 15th Annual Computer Science Awards Banquet. The banquet was held in the Purdue Memorial Union, North Ballroom on April 2, 2007. Master of Ceremony, Professor Gene Spafford (Spaf), welcomed the crowd and got the event started with introductions of special guests of the department.
After dinner, Department Head, Prof. Susanne Hambrusch recognized those who were honored with awards in the past academic year. Past awards are featured in the Computer Science news archive. Prof. Hambrusch presented the 2007 Outstanding Staff Member Awards to Renate Mallus and Nicole Piegza, and the Outstanding Service to the Department by a Student award to Paul Rosen. She also announced the Outstanding Teachers in the CoS: Professors Mike Atallah and Dr. Gustavo Rodriguez-Rivera. During the banquet Prof. Buster Dunsmore was also named ACM's Favorite Undergraduate Faculty and Prof. Mike Atallah was honored by the GSB as the Most Influential Professor. Prof. Hambrusch announced the CERIAS Diamond Award winners; undergraduate, Ryan Stutsman and graduate, Marina Blanton. She announced the faculty and staff recognized at the inaugural College of Science Faculty and Staff Recognition Luncheon: Mary Bell, Prof. Elisa Bertino, Dr. James Early, Dr. Tim Korb, Prof. Eugene Spafford, and Dan Trinkle.
Prof. Eugene Spafford returned to the stage to recognize students who had won awards during the past academic year. He also announced the outstanding graduate teaching honor which went to Nick Sumner. Ryan Stutsman was chosen as the recipient of the Outstanding Research Efforts award. The ACM Top Graduate Student TA award went to Barry Wittman and the ACM Top Undergraduate Student TA award went to SangHa Baek. Mohamed Fouad was named the GSB Top Graduate TA.
Attendees of the awards banquet also got a good laugh during the humorous awards. Jean Jackson took home a comb for the Extra Special Hair Award. Jim Clamons of Harris Corporation received a toothbrush and toothpaste for the traveling award. Dr. Bill Gorman received a feather duster to add to his office decor since his HAAS office was a cluttered fire hazard. And Prof. Patrick Eugster received the Upper Body Strength Semaphore Award and a prized energy bar.
The College of Science recognized the following students: Mohammad Siddiqui (Outstanding Freshman), Kyle Kral (Outstanding Sophomore), Ryan Adams (Outstanding Junior), and Alexei Czeskis (Outstanding Senior).
The Computer Science Department would like to congratulate all the award recipients and thank the donors listed below.
| Company/Scholarship | Recipient |
| --- | --- |
| Aprimo (2 awards @ $750) | Jonathan Monroe and Ryan Rueth |
| Baker Hill Corporation (1 award @ $1,000) | Ferry Unardi |
| Boeing Scholarship (2 awards @ $5,000) | Sahil Desai and Ibrahim Shareef |
| Boeing Scholarship (3 awards @ $6,666) | Christopher Bosler, Jennifer Long, and Joshua Magner |
| Caterpillar (2 awards @ $1,000) | Ian Hutchinson and Mohammad Siddiqui |
| Cerner (2 awards @ $500) | Chris Isaac, Mark Nowicki |
| Crowe Chizek and Company LLC (2 awards @ $500) | Jonathan Micklos, Daniel Paulat |
| Delta Mobile Software (1 @ $200) | Galymzhan Uteulin |
| Flexware Innovation (1 award @ $500) | Travis Drake |
| Harris Corporation (2 awards @ $1000) | Richard Larson and Aaron Link |
| Grace Murray Hopper (1 award @ $1,250) | Vaibhav Sahgal |
| IBM (1 award @ $500) | Daniel Palacio |
| Aaron and Morgan Kunze Scholarship (1 award @ $2,000) | Ryan Adams |
| Lighthouse Award (CS Department) | Jason Faas |
| Lockheed Martin (3 awards @ $500) | Robert Burns, Hans Livingstone, and Emil Stefanov |
| Microsoft Exemplary Leadership and Technical Contributions in EPICS (1 award @ $2,000) | Kyle Kral |
| Microsoft Promoting Interdisciplinary Engagement in EPICS | Prisilia Paramita |
| Motorola (1 award @ $500) | James Kung |
| Neel Scholarship (Mary-Ann Neel) (2 awards @ $500) | Kurt Ackermann and Shishir Shah |
| Northrop Grumman (4 awards @ $500) | Immanuel Alexander, Bob Insley, Nathanael Logan, and Aaron Schuetter |
| Raytheon Systems (2 awards @ $1,000) | Daniel Spaid and Daniel Tang |
| Siemens Corporation (3 awards @ $500) | Sahil Gulati, Tim Juchcinski, and Sung Kim |
| Siemens Research Corporation (1 award @ $500) | Marina Blanton |
| Siemens Leadership Award (1 award @ $500) | Chris Mayfield |
| Verizon (2 awards @ $1,000) | Jason Akers and Philip Harnish |
| Women in Computing Scholarship (1 award @ $1,000) | Catherine Moran |
Last Updated: May 1, 2017 2:57 PM