14th Annual Awards Banquet
04-03-2006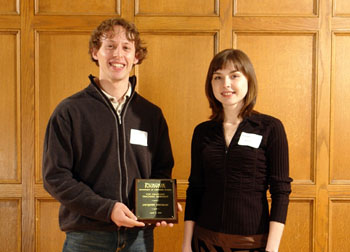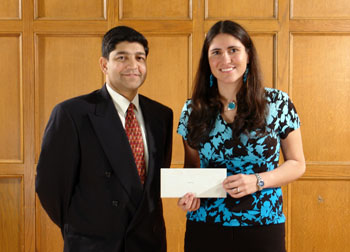 Corporate representatives, faculty, students, and staff gathered at the 14th Annual Computer Science Awards Banquet to celebrate accomplishments and friendships. The ceremony took place on April 3, 2006 in the Purdue Memorial Union, North Ballroom. Master of Ceremony, Professor Gene Spafford (Spaf), started the banquet by welcoming visitors from within the university as well as those who came to Purdue for the occasion.
Department Head, Prof. Susanne Hambrusch recognized those who were honored with awards in the past academic year. Past awards are featured in the Computer Science news archive. Prof. Hambrusch presented the 2006 Outstanding Staff Member Awards to Karla Cotter and Linda Byfield, and the Outstanding Service to the Department by a Student award to Michael Armbrust. She also announced the Outstanding Teachers in the CoS: Professors Mike Atallah, Douglas Comer, and Buster Dunsmore and Dr. Gustavo Rodriguez-Rivera. During the banquet Prof. Buster Dunsmore was also named ACM Favorite Undergraduate Faculty and Prof. Greg Frederickson was honored by the GSB as the Most Inspiring Professor.
Prof. Eugene Spafford returned to the stage to recognize graduate students who had won awards during the past academic year. He also announced the outstanding graduate teaching honor which went to Ryan Riley and Yasin Laura Silva. Ryan was also chosen Top Graduate Student TA by the ACM, and graduate student, Jacques Thomas received the Top Graduate TA honor from the GSB.
Undergraduate awards presented at the banquet included: Outstanding Seniors, Michael Armbrust and Mehmet Demirci; Outstanding Juniors, Brett Bavar, Alexei Czeskis, and Ryan Stutsman; Outstanding Sophomores, Ryan Adams and Ferry Unardi; Outstanding Research Efforts, Philip Schatz and Alexei Czeskis; and Top Undergraduate Student TAs, James Roberts, Zachary Tatlock, and Janine Tenkate;
There were also some lighthearted awards given in the spirit of a fun workplace. Ron Castongia and Brian Board were presented with a supply of nuts to use the next time we have a squirrel-induced network outage. The department recognized Prof. Chris Hoffmann and Dr. Tim Korb with some sun screen for their next trip on the" nerd boat." And Karla Cotter and Nicole Piegza received the Yoplait Mothers' Award for their dedication to wellness and nutrition every day at 10:00 a.m. & 3:00 p.m.
As a result of the support of corporate partners, alumni and friends, awards for the year totaled more than $200,000. Scholarships for incoming students include Grace Hopper Scholarship (1 award @ $20,000); Computer Science Scholarships (2 awards @ $16,000); Corporate Partner Scholarships (totaling $15,000); Women in Computer Science Scholarship (1 award @ $3,500), and the Lockheed Martin Scholarship (1 award for $2,000).
The Computer Science Department would like to congratulate all the award recipients and thank the donors listed below.
| Company/Scholarship | Recipient |
| --- | --- |
| Baker Hill Corporation (1 award @ $1,000) | Paul Marks |
| Boeing Scholarship (1 award @ $15,000) | Aaron Link |
| Caterpillar (1 award @ $1,000) | Christopher Isaac |
| Cisco Systems (4 awards @ $1,000) | Jacob Fancher, Robert Insley, Richard Larson, and Ryan Rueth |
| Cisco Systems Sales Division (1 award @ $500) | Shishir Shah |
| CPP Scholarship (1 award @ $3,000) | Zachary Tatlock |
| Crowe Chizek and Company LLC (2 awards @ $500) | Omar Alrawi and Jeremy Orlow |
| CS-EPICS Scholarship/Microsoft (5 awards @ $1,000) | Daniel Spaid, Philip Harnish, Joseph Fath, James Swedler, and Daniel Tang |
| Eli Lilly and Company (2 awards @ $1,500) | Ryan Adams and Alexei Czeskis |
| David and Janice Fairchild Memorial for Nathaniel A. Johnson (1 award @ $1,000) | William Harris |
| Flexware Innovation (1 award @ $500) | Jason Akers |
| Guidant Foundation (2 awards @ $10,000) | Catherine Brown and Brett Bavar |
| Halstead Award (1 award @ $4,000) | Murali Krishna Ramanathan |
| Harris Corporation (2 awards @ $750) | Joshua Koon and James Kung |
| IBM (1 award @ $500) | Kevin Nuest |
| Aaron and Morgan Kunze Scholarship (1 award @ $3,000) | Ferry Unardi |
| Lighthouse Award (CS Department) | Nicolas (Nick) B. Widman |
| Lockheed Martin (1 award @ $1,000) | David Boersma |
| Motorola (2 awards @ $500) | Maria Heider and Prisilia Paramita |
| Neel Scholarship (Mary-Ann Neel) (1 award @ $1,000) | Vaibhav Sahgal |
| Northrop Grumman (4 awards @ $500) | Alexander Hanna, John Horst, Casey Kolderup, and Kevin Sanik |
| Raytheon Systems (2 awards @ $1,000) | Kyle Kral and Emil Stefanov |
| Schowe Scholarship (1 award @ $3,000) | Daniel Spaid |
| Siemens Corporation (4 awards @ $500) | Daniel Placacio, Wahyu Widjaja, Ryan Riley, and Yasin Nilton Laura Silva |
| Verizon Foundation (2 awards @ $2,000) | Ryan Stutsman and Rimma Nehme |
Last Updated: Apr 7, 2017 1:45 PM