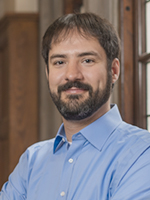 Jeffrey A. Turkstra
Assistant Professor of Practice
Joined department: Spring 2017
Education
BS, Purdue University, Computer Engineering (2004)
MS, Purdue University, Electrical and Computer Engineering (2007)
PhD, Purdue University, (2013)
From August 2005 through July 2006, Dr. Turkstra was a Charles C. Chappelle Fellow at Purdue. For the three academic years spanning 2005-2008, he served as an Instructor for the School of Electrical and Computer Engineering. For seven years beginning June 2009, he was a full time Software Engineer with the HUBzero group in the Rosen Center for Advanced Computing at Purdue University.
Since 2017, Dr. Turkstra has been a member of the faculty at Purdue as an Assistant Professor of Practice in the Department of Computer Science. He also enjoys occasionally dabbling in digital systems design and has served as a consultant for a number of start-ups.
Dr. Turkstra's research interests are primarily in the areas of operating systems and distributed systems. Previous research activities include a prototype thin client EDA environment based on Sun's GridEngine and Sun Ray Server software as well as a large storage area network (SAN) research project operated by the Engineering Computer Network. His current work centers on a distributed, virtual operating system named Metachory.
Last Updated: Dec 4, 2020 1:55 PM