Purdue CS introduces new faculty member
09-25-2023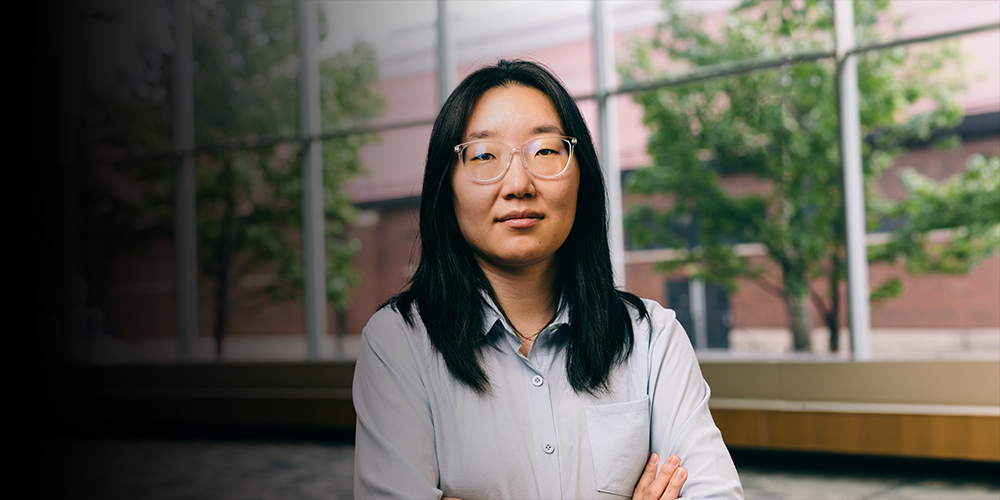 Assistant Professor Sooyeon Jeong
New faculty hires propel Purdue towards our future focus of new research activities and collaborations centered around artificial intelligence, machine learning, robotics, quantum computing, architecture, and security.
The addition of new faculty marks strides toward our future-oriented commitment to research innovation and fostering transformative collaboration. Along with the collaborative effort of our award-winning faculty, the work generated from the Department of Computer Science will steer Purdue's trajectory into an era defined by groundbreaking advancements in artificial intelligence, machine learning, robotics, quantum computing, architecture, data science, and security.
The Department of Computer Science is happy to announce the start of our newest faculty member, Assistant Professor Sooyeon Jeong. She joins the department spanning three different research areas with a focus in human-computer interaction.
Jeong's research focuses on designing and deploying interactive AI agents that can improve people's lives by providing personalized support based on each user's needs, traits, and behaviors. She deploys these agents in-the-wild to evaluate how they build relationships and rapport with people over time and improve their wellbeing, health, and learning. Jeong believes relational technologies can be more than just tools and become helpful companions for people by continuously adapting themselves to help users achieve their health goals. Her research resides in  human-computer interaction, AI interaction, social robotics, affective computing, applied machine learning, and digital health.
Jeong earned her MSc and PhD in Media Arts and Science from MIT Media Lab. Prior to that she received her BS and MEng from the Department of Electrical Engineering and Computer Science (EECS) at MIT. Before joining the faculty at Purdue, she spent a year as a National Research Service Award (NRSA) T32 Postdoctoral Fellow at the Center for Behavioral Intervention Technologies at Feinberg School of Medicine at Northwestern University
"Professor Jeong brings expertise in core areas of computing and research that will help Purdue expand our presence and leadership in computer science," said Chris Clifton, Interim Department Head and Professor of Computer Science. 
He added, "Our faculty build on our tradition of delivering breakthrough research, enhancing the academic community and the broader world, further solidifying Purdue's legacy as a beacon of excellence in education and research. This is a testament to our unwavering dedication to shaping the future and pushing the boundaries of knowledge."
Faculty hiring at Purdue is incentivized by Purdue Computes, a bold new initiative from President Mung Chiang and Provost Patrick Wolfe. The initiative is part of an investment in computing at Purdue University with an explicit goal of elevating computer science to a top-10 program in the country. This ambitious goal is a testament to the exploding importance of this field, and a reflection of the trust that the university has in our ability to contribute to the future success of the university. 
The Purdue Computes initiative will enable a strategic and sustained effort to elevate the program to the next level. As competition for top talent in AI and computing is fierce, the Purdue Computes effort is an excellent differentiator for our program, enabling the department to attract top faculty who will advance these technologies through their world leading research. 
About the Department of Computer Science at Purdue University
Founded in 1962, the Department of Computer Science was created to be an innovative base of knowledge in the emerging field of computing as the first degree-awarding program in the United States. The department continues to advance the computer science industry through research. US News & Reports ranks Purdue CS #18 and #20 overall in graduate and undergraduate programs respectively, 6th in cybersecurity, 8th in software engineering, 13th in programming languages and systems, 15th in data analytics, and 18th in theory. Graduates of the program are able to solve complex and challenging problems in many fields. Our consistent success in an ever-changing landscape is reflected in the record undergraduate enrollment, increased faculty hiring, innovative research projects, and the creation of new academic programs. The increasing centrality of computer science in academic disciplines and society, and new research activities - centered around data science, artificial intelligence, programming languages, theoretical computer science, machine learning, and cybersecurity - are the future focus of the department. cs.purdue.edu
Last Updated: Nov 2, 2023 9:27 AM