Purdue CS researchers present four papers at NDSS
02-27-2023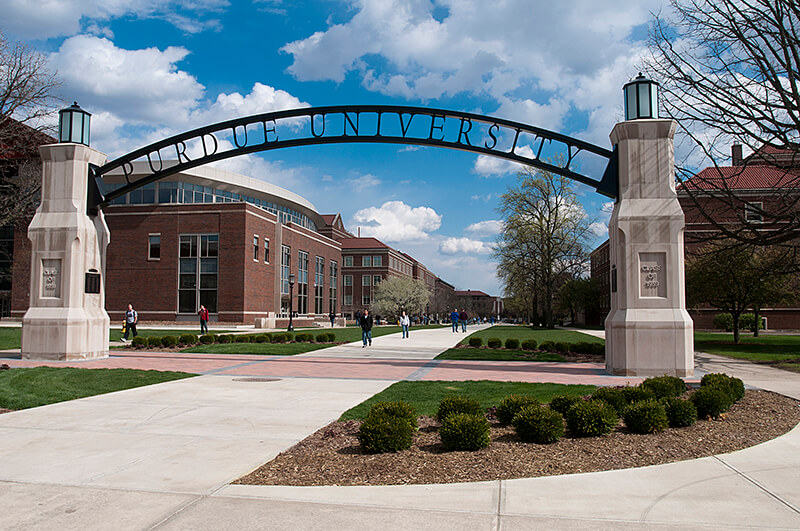 Purdue University Gateway to the Future
This year, Purdue CS faculty will present 4 papers at the Network and Distributed System Security Symposium and 2 papers at the co-located VehicleSec 2023 event.
Held in San Diego from February 27 to March 14, the NDSS Symposioum is a leading security forum that fosters information exchange among researchers and practitioners of network and distributed system security.
With over 120 peer-reviewed paper presentations, poster sessions, keynotes from leading security practitioners, and multiple co-located workshops, the event encourages and enables the Internet community to apply, deploy, and advance the state of available security technologies. 
Purdue CS Papers at NDSS 2023
Evasion Attacks and Defenses on Smart Home Physical Event Verification
Muslum Ozgur Ozmen, Ruoyu Song, Habiba Farrukh, and Z. Berkay Celik (Purdue University)
Breaking And Fixing UTXO-Based Virtual Channels
Lukas Aumayr (TU Wien); Pedro Moreno-Sanchez (IMDEA Software Institute); Aniket Kate (Purdue University); Matteo Maffei (TU Wien)
OptRand: Optimistically Responsive Reconfigurable Distributed Randomness
Adithya Bhat (Purdue University); Nibesh Shrestha (Rochester Institute of Technology); Aniket Kate (Purdue University); Kartik Nayak (Duke University)
BEAGLE: Forensics of Deep Learning Backdoor Attack for Better Defense
Siyuan Cheng, Guanhong Tao, Yingqi Liu, Shengwei An, Xiangzhe Xu, Shiwei Feng, Guangyu Shen, Kaiyuan Zhang, and Qiuling Xu (Purdue University); Shiqing Ma (Rutgers University); Xiangyu Zhang (Purdue University)
The Symposium on Vehicle Security and Privacy (VehicleSec) 2023 - held in conjuction with NDSS 2023
The Inaugural Symposium on Vehicle Security and Privacy (VehicleSec 2023) is built upon the continuous four-year growth of the AutoSec (Automotive and Autonomous Vehicle Security) Workshop with the NDSS Symposium. The symposium aims at bringing together an audience of university researchers, scientists, industry professionals, and government representatives to contribute new theories, technologies, and systems on any security/privacy issues related to vehicles, their sub-systems, supporting infrastructures, and related fundamental technologies.
Short: Rethinking Secure Pairing in Drone Swarms
Muslum Ozgur Ozmen, Habiba Farrukh, Hyungsub Kim, Antonio Bianchi, Z. Berkay Celik (Purdue University)
Demo: Physically Hijacking Object Trackers
Raymond Muller (Purdue University), Yanmao Man (University of Arizona), Z. Berkay Celik (Purdue University), Ming Li (University of Arizona), Ryan Gerdes (Virginia Tech)  
Demo: Discovering Faulty Patches in Robotic 
Vehicle Control Software
Hyungsub Kim, Muslum Ozgur Ozmen, Z. Berkay Celik, Antonio Bianchi, Dongyan Xu (Purdue University)
About the Department of Computer Science at Purdue University
Founded in 1962, the Department of Computer Science was created to be an innovative base of knowledge in the emerging field of computing as the first degree-awarding program in the United States. The department continues to advance the computer science industry through research. US News & Reports ranks Purdue CS #20 and #16 overall in graduate and undergraduate programs respectively, seventh in cybersecurity, 10th in software engineering, 13th in programming languages, data analytics, and computer systems, and 19th in artificial intelligence. Graduates of the program are able to solve complex and challenging problems in many fields. Our consistent success in an ever-changing landscape is reflected in the record undergraduate enrollment, increased faculty hiring, innovative research projects, and the creation of new academic programs. The increasing centrality of computer science in academic disciplines and society, and new research activities - centered around data science, artificial intelligence, programming languages, theoretical computer science, machine learning, and cybersecurity - are the future focus of the department. cs.purdue.edu
Last Updated: Mar 6, 2023 11:10 AM