Spaf takes a seat among the elite
10-11-2023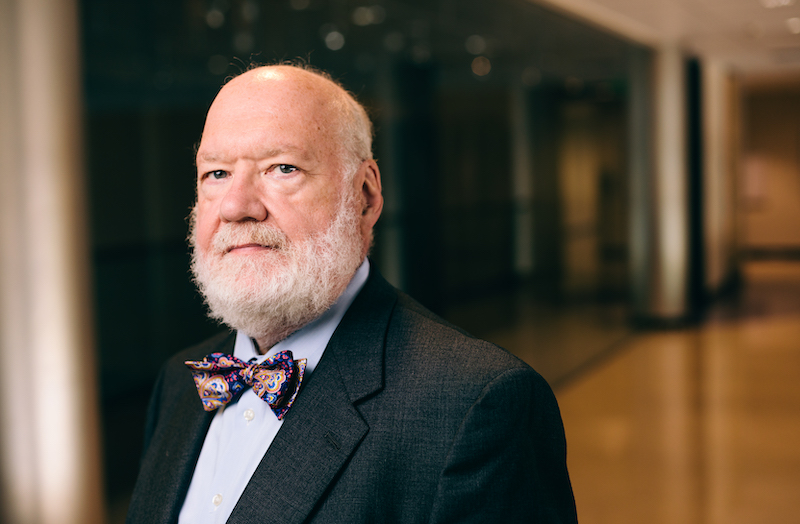 Purdue's own Professor Eugene H. Spafford has achieved an extraordinary honor as he was formally inducted into the American Academy of Arts and Sciences (AAA&S), one of the United States' oldest and most prestigious honorary societies. 
Delayed due to the global pandemic, Professor Eugene H. Spafford was formally inducted as a Fellow of the American Academy of Arts and Sciences on September 30, 2023. Started in 1780 by John Adams, John Hancock, and 60 other scholar-patriots, the AAA&S is the United States' oldest honorary society and one of its most prestigious. Only eight other Purdue faculty and emeritus faculty are members.
Professor Spafford (known to most as "Spaf") is now a Fellow of the AAA&S, the ACM, the IEEE, the American Association for the Advancement of Science (AAAS), and the ISC2, and is a Distinguished Fellow of the ISSA; he is the only person to ever achieve Fellow status in all six professional and honorary organizations. 
In addition, Spaf is also the only person ever to be a recipient of seven of the most notable honors in the field of cybersecurity: being named to the National Cyber Security Hall of Fame, the IFIP TC-11 Kristian Beckman Award, the Harold F. Tipton Lifetime Achievement Award, a SANS Lifetime Achievement Award, the NIST/NCSC National Computer Systems Security Award, the Joseph J. Wasserman Award, and election to the ISSA Hall of Fame.
Spafford is no stranger to "firsts" in his 36 years at Purdue, having started the first cybersecurity graduate degree program at the university, established the first multidisciplinary cybersecurity research institute known as CERIAS, authored the first book about computer viruses, started the academic field of cyber forensics, and performed some of the initial academic work on firewalls, intrusion detection, and vulnerability management.
Still active in the classroom and research, Spaf is currently working with students on Internet censorship and privacy issues, security of real-time systems, cybersecurity education, and issues of cyberwar and defense. In addition to his work in Computer Science, Spaf is the Executive Director Emeritus of CERIAS, is the head of the Interdisciplinary Information Security graduate program, and has courtesy appointments in ECE, Communication, Philosophy, and Political Science.
About the Department of Computer Science at Purdue University
Founded in 1962, the Department of Computer Science was created to be an innovative base of knowledge in the emerging field of computing as the first degree-awarding program in the United States. The department continues to advance the computer science industry through research. US News & Reports ranks Purdue CS #20 and #18 overall in graduate and undergraduate programs respectively, 6th in cybersecurity, 8th in software engineering, 13th in programming languages and systems, 15th in data analytics, and 18th in theory. Graduates of the program are able to solve complex and challenging problems in many fields. Our consistent success in an ever-changing landscape is reflected in the record undergraduate enrollment, increased faculty hiring, innovative research projects, and the creation of new academic programs. The increasing centrality of computer science in academic disciplines and society, and new research activities - centered around data science, artificial intelligence, programming languages, theoretical computer science, machine learning, and cybersecurity - are the future focus of the department. cs.purdue.edu
Media contact: Emily Kinsell,
emily@purdue.edu
Source: Eugene Spafford,
spaf@purdue.edu
Last Updated: Nov 2, 2023 9:00 AM