Wolfe named provost and executive vice president for academic affairs and diversity
12-20-2022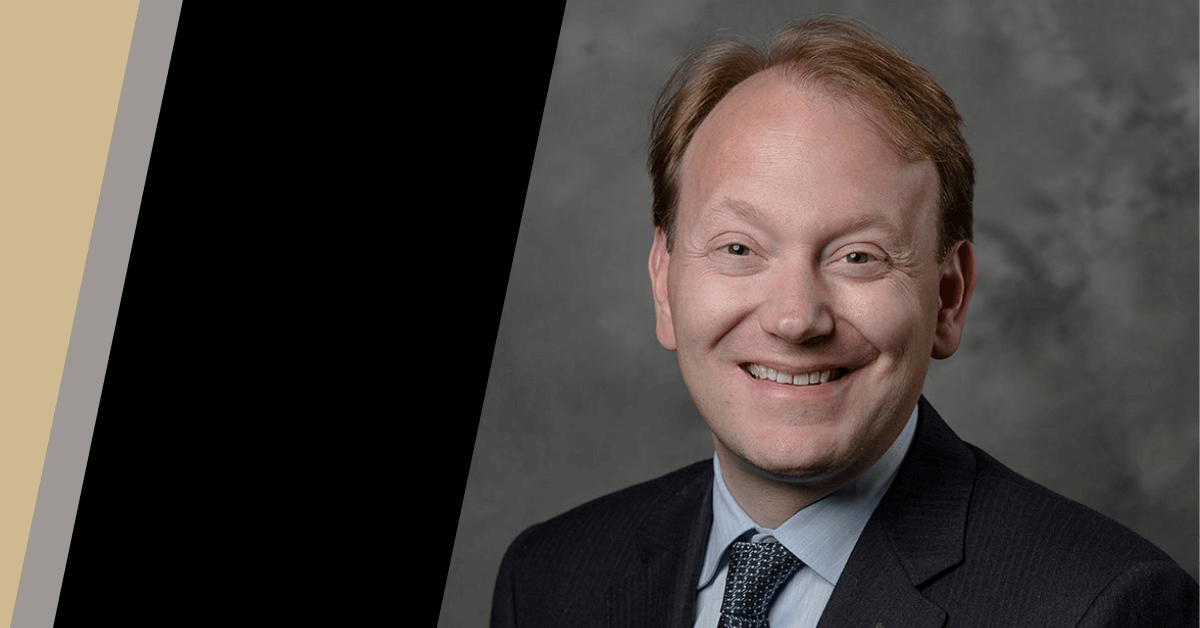 WEST LAFAYETTE, Ind. – As the Fall 2022 semester ends at Purdue and the university prepares for a new president on Jan. 1, President-elect Mung Chiang announced Tuesday (Dec. 20) several updates to the university leadership team.
As of Jan. 1, Patrick Wolfe will become Purdue's next provost and executive vice president for academic affairs and diversity.
"Purdue is successful because of all of our dedicated colleagues," Chiang said. "We are immensely grateful for the contributions of every Boilermaker as we come to the last work week before January 1. I am looking forward to working with Provost Patrick Wolfe, EVP Karen Plaut, SVP Alyssa Wilcox, CSO Theresa Mayer, and the entire university leadership team to serve the students, faculty and staff of our university." 
Provost and executive vice president for academic affairs and diversity
Wolfe, currently the Frederick L. Hovde Dean of the College of Science and the Miller Family Professor of Statistics and Computer Science, was chosen from a field of more than 20 nominees and 10 applicants to succeed Provost Jay Akridge, who has held the position since 2017.
President Mitch Daniels and Chiang thanked the search advisory committee, led by R. Byron Pipes, the John L. Bray Distinguished Professor of Engineering, for its work in reviewing candidates, organizing forums for the finalists and gathering campus feedback on the candidates. The committee narrowed the field to three finalists, all highly qualified and outstanding individuals. The finalists each met with campus leaders and administrators and held public forums Dec. 7-9 in Stewart Center's Fowler Hall. Feedback was accepted through Dec. 12. Additionally, throughout November and early December, the search advisory committee conducted seven listening sessions and opened additional channels for feedback from faculty, students and staff through emails, surveys and anonymous online input.
"I couldn't be more pleased and proud to serve our students, staff and faculty across the entirety of Purdue's academic enterprise as provost and executive vice president for academic affairs and diversity," Wolfe said. "I look forward immensely to helping make Purdue the most consequential comprehensive public research university in America."
Wolfe joined Purdue in 2017 to lead its College of Science, having previously helped set up and lead the Alan Turing Institute — the UK's national center for data science and artificial intelligence — as a Royal Society Wolfson Award winner and Research Fellow. Wolfe has grown the college to become Purdue's second largest, transforming its programs, faculty and research base while ensuring the delivery of over 40% of all 100–299-level credit hours on campus. Along with securing the establishment of the Chaney-Hale Hall of Science and the full refurbishment of Schleman Hall for Purdue's expanding data science activities, he has overseen record-setting and record-breaking enhancements in undergraduate student success as well as doctoral student applications, enrollment, research proposals and funding. Wolfe also established Purdue's Emerging Leaders Science Scholars program, which has significantly expanded the recruitment, retention, and success of Purdue Science students from a wide variety of backgrounds, and has reshaped the college's leadership team with a much more representative set of STEM leaders. Wolfe publishes in mathematical statistics and chairs the board of the NSF-funded Institute for Mathematical and Statistical Innovation.
Jean Chmielewski, the Alice Watson Kramer Distinguished Professor of Chemistry in the College of Science, has agreed to serve as interim dean starting Jan. 1, and a national search for the next dean will be announced in early January.
Media contact: Tim Doty, doty2@purdue.edu
Last Updated: Dec 20, 2022 6:58 PM