Moira Gunn to talk biotech, women's health and career-life balance
11-21-2022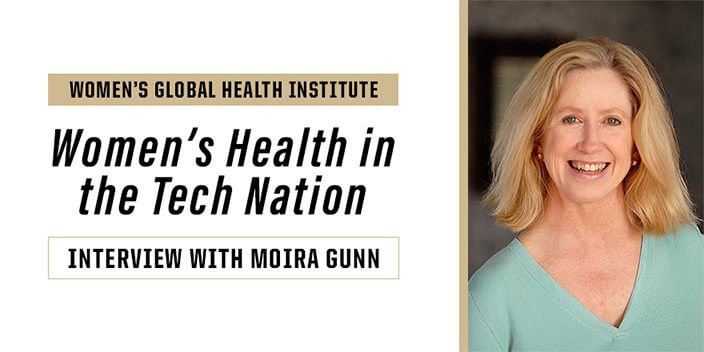 WEST LAFAYETTE, Ind. – Moira Gunn, Purdue alumna and host of National Public Radio's "Tech Nation" and "BioTech Nation," will discuss how biotechnology relates to women's health, her personal career path from engineer to award-winning radio journalist and media host, and her experiences in balancing work and life, in a virtual event at 6:30 p.m., Nov. 30.
The online discussion, sponsored by the Purdue Women's Global Health Institute (WGHI), will be led by Leah Jamieson, the Ransburg Distinguished Professor of Electrical and Computer Engineering and the John A. Edwardson Dean Emerita of Engineering.
As founder of her public radio programs, Gunn has interviewed over 3,000 people in the fields of biotechnology and bioentrepreneurship. Her shows are heard on more than 200 radio stations nationwide, on the Sirius satellite radio system and American Forces Radio International, as well as online. Her book, "Welcome to BioTech Nation: My Unexpected Odyssey into the Land of Small Molecules, Lean Genes, and Big Ideas," was named to the Best Science Books list by the Library Journal. 
In 2007, Gunn received the Distinguished Science Alumni Award and later in 2008, she rececived the Purdue Distinguished Engineering Alumni Award. In 1972, Gunn completed a master's in computer science at Purdue and was the first woman to earn a doctorate in mechanical engineering in 1974. She was a NASA computer scientist and engineer for five years, and also patented a nutritional measurement system with two female co-inventors. She also has received an honorary doctorate in science from Purdue.
Her online appearance on Nov. 30 is free and open to all. Registration is required and available until the beginning of the event at the WGHI website. Registrants will receive a link to the event.
Cosponsors for the event are the College of Engineering, the Women in Engineering Program, the Susan Bulkeley Butler Center for Leadership Excellence, the Graduate School, the Purdue Institute of Inflammation, Immunology, and Infectious Disease, the College of Health and Human Sciences and the College of Liberal Arts.
Last Updated: Nov 21, 2022 11:06 AM