Purdue tops among Big Ten, R1 institutional peers in conferring PhDs to Black computer scientists
05-02-2022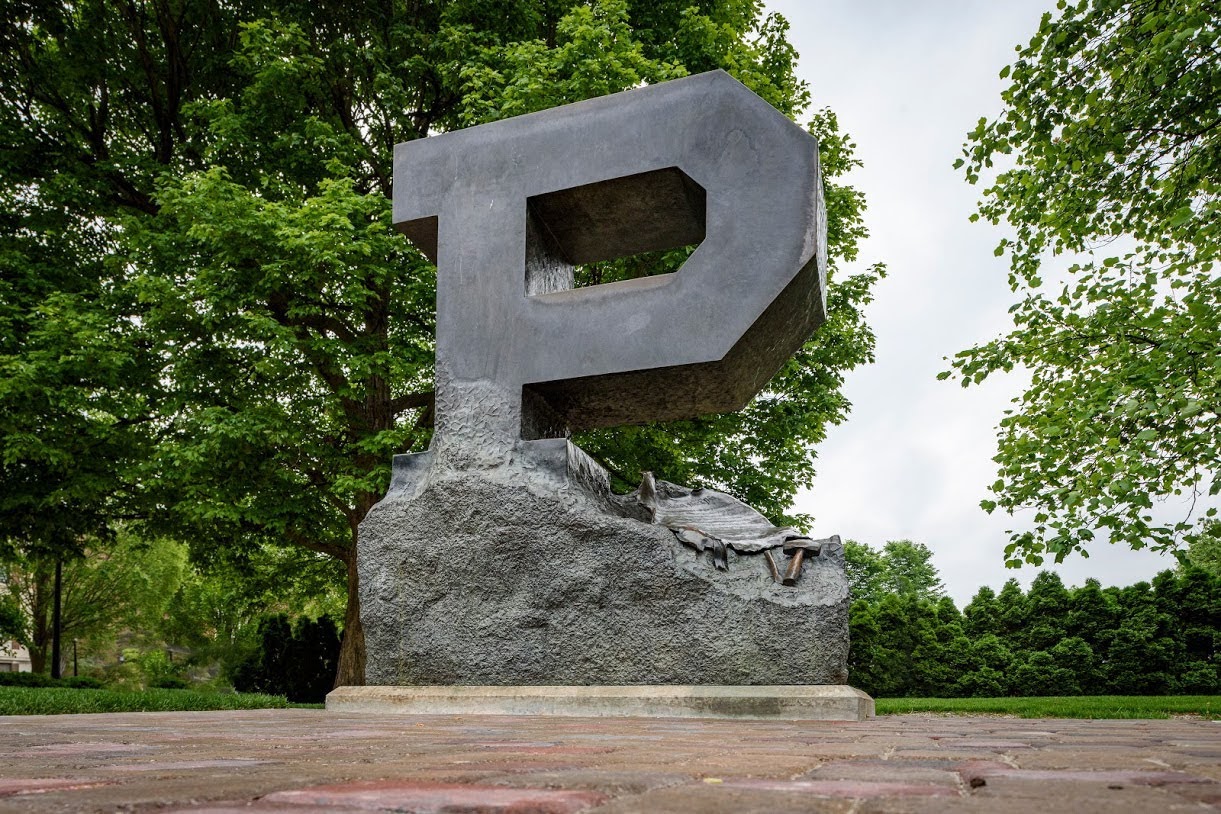 5-year analysis: Purdue leads in awarding PhDs to Black Boilermakers in computer science
The U.S. News & World Report's latest rankings for the nation's top graduate programs point to Purdue University's strengths in equipping the next generation of leaders in the STEM fields. 
Further, they show Purdue's underlying progress to diversify the racial makeup of its graduate student ranks, enriching the university's research and learning enterprise and enhancing the powerful link between diversity, excellence, and academic opportunity, Purdue officials say.
During the five-year period that ended in spring 2020, Purdue conferred the most doctoral degrees to Black graduate students – compared with its peer R1 research institutions nationally and in the Big Ten – in the discipline of computer science, according to a Purdue analysis compiled from the Integrated Postsecondary Education Data System.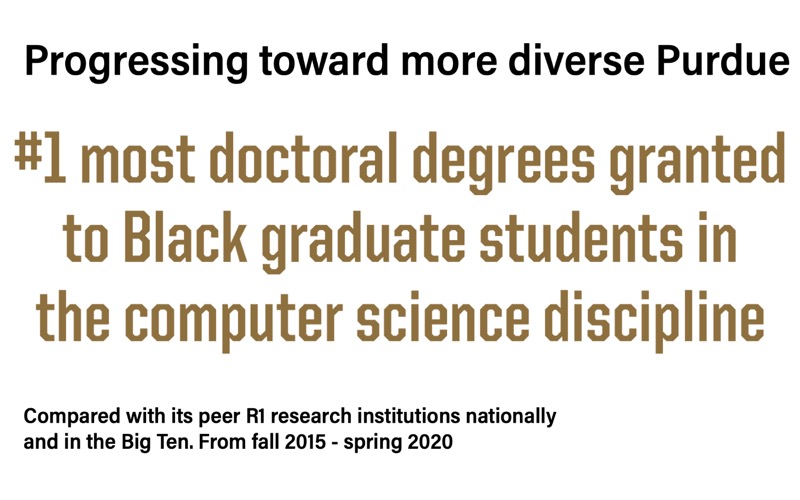 "In keeping with our land-grant mission that's deeply rooted in the intrinsic connection between diversity and academic excellence as well as the principles of access and equity, Purdue has led not just the Big Ten but our R1 institutional peers in conferring the most doctoral degrees in many of our STEM programs the past five years," said John Gates, Purdue's vice provost for diversity and inclusion.
An R1 designation is for universities that reach certain benchmarks in research activity and funding as set by the Carnegie Classification of Institutions of Higher Education.

Additionally, the disciplines of chemistry, engineering-related technology, the physical sciences, statistics, and veterinary medicine also conferred the most doctoral degrees to Black graduate students – compared with its peer R1 research institutions nationally and in the Big Ten. 
"We are proud of the significant progress Purdue has made in becoming a leader in attracting and ensuring the academic success of Black graduate student scholars," said Linda Mason, dean of the Graduate School at Purdue. "Yet, we also know there is more work to do in providing greater learning and research opportunities for our entire university community."
For Fall 2021, the Department of Computer Science's overall graduate student enrollment reached an all-time high of 496 in 2021, up 40% from 2020 and 106% over the last decade.
About Purdue Equity Task Force
Purdue's Next Moves launched in April 2021 with the Equity Task Force as one of its five pillars. The multipronged Equity Task Force effort began by identifying and reviewing overarching equity issues to develop a strategic plan and implementation as Purdue aims for broader equity and inclusion across the West Lafayette campus, particularly for Black Boilermakers.
Through the five-year, $75 million Equity Task Force initiative, Purdue is hiring additional recruiters to help attract Black students, expanding existing programs such as Emerging Leaders and introducing more scholarship opportunities for underrepresented minority students thanks to more than $25 million in donations.
As part of this effort, Purdue launched a major faculty cluster hiring initiative last fall to diversify the racial makeup of the university's faculty. Over the next five years, 40 full-time Purdue faculty will be hired in several academic clusters as part of this initiative.
The first phase of the five-year faculty hiring plan focuses on adding 14 faculty in public health. The goal of the overall cluster hire program is to enhance research excellence and provide greater career opportunities for underrepresented minority faculty.
The university also has announced an 11th straight tuition freeze for the 2022-23 school year, ensuring the total cost of attendance today is lower than in 2012-13 and advancing the strides it's making to ensure that a Purdue education is more accessible and affordable.
About the Department of Computer Science at Purdue University
Founded in 1962, the Department of Computer Science was created to be an innovative base of knowledge in the emerging field of computing as the first degree-awarding program in the United States. The department continues to advance the computer science industry through research. US News & Reports ranks Purdue CS #20 and #18 overall in graduate and undergraduate programs respectively, ninth in both software engineering and cybersecurity, 13th in programming languages, 17th in computing systems, 22nd in theory, and 24th in artificial intelligence. Graduates of the program are able to solve complex and challenging problems in many fields. Our consistent success in an ever-changing landscape is reflected in the record undergraduate enrollment, increased faculty hiring, innovative research projects, and the creation of new academic programs. The increasing centrality of computer science in academic disciplines and society, and new research activities - centered around data science, artificial intelligence, programming languages, theoretical computer science, machine learning, and cybersecurity - are the future focus of the department. cs.purdue.edu
Parts of this article originally appeared in Purdue University News.
Last Updated: May 2, 2022 4:44 PM