Purdue CS reaches #16 in U.S. News & World Report rankings
09-12-2022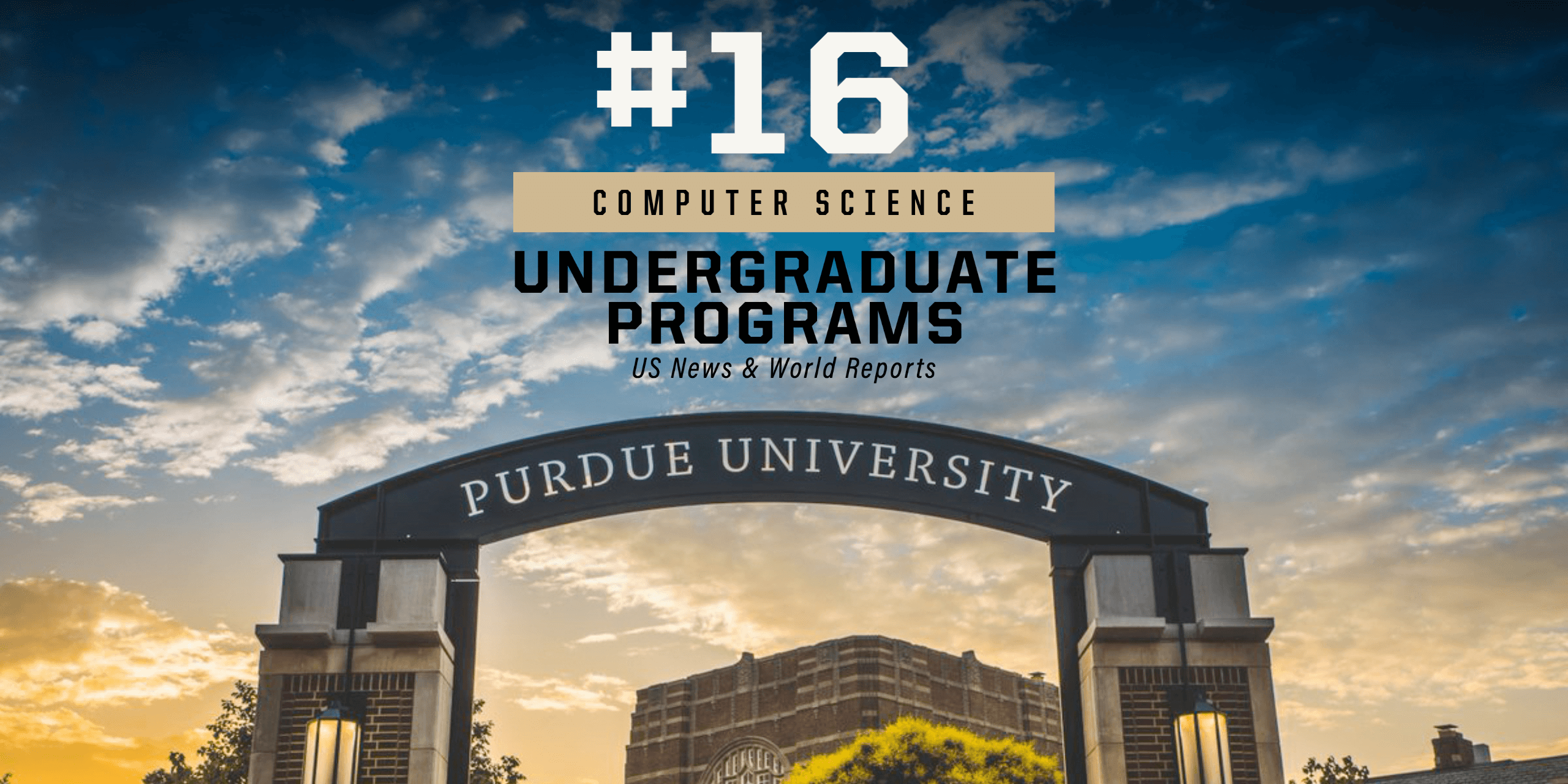 The persistent pursuit of innovation and creativity moves Purdue CS up in annual list rankings.
Purdue University's Department of Computer Science moves to 16th in the newest U.S. News & World Report rankings of undergraduate programs.
The Department of Computer Science in Purdue's College of Science moved up two spots, to 16th in the rankings. The cybersecurity program is seventh; software engineering 10th; and programming languages, data analytics, and computer systems all 13th. The artificial intelligence program is 19th.
The department continues its rapid rise, moving up two spots from last year to No. 16 overall, bolstered by the recent addition of new majors in artificial intelligence and in data science. Cybersecurity remains a leading area of strength at Purdue, rising two places to seventh, along with software engineering, ranked 10th. Artificial intelligence moves up five places to 19th, and data analytics is ranked for the first time, at 13th, along with programming languages and computing systems.
Patrick Wolfe, Purdue's Frederick L. Hovde Dean of Science and Miller Family Professor of Statistics and Computer Science, said, "We are enormously proud of having generated so much sustained momentum across the data and computational sciences at Purdue — and even more so to have done this while expanding our enrollments substantially, providing opportunities for many more of the best and brightest students to join us here for their studies. Our continued progress is a reflection not only of major strategic investments we've made and continue to make but also, even more strongly, the exceptional efforts of our faculty, staff and proud alums."
This newest ranking adds to an impressive list of recent Purdue rankings. Just last week, Purdue was ranked for the second straight year No. 6 internationally in utility patents in a report from the Intellectual Property Owners Association and the National Academy of Inventors. In August, the university was voted No. 4 in Morning Consult's "Most Trusted Universities" study. Smart Asset named Purdue No. 1 in-state and 12th nationally for Best Value Colleges. Purdue is ranked the third-best college campus for freedom of speech in the just-released free speech rankings by The Foundation for Individual Rights and Expression (FIRE)/College Pulse.
U.S. News assesses colleges and universities based on 17 metrics of academic quality, with the most weight placed on outcome measures, such as graduation and retention rates and average graduate indebtedness. Average class size, undergraduate academic reputation and how much colleges invest in instruction and student services are among the other data points U.S. News collected to develop the latest set of rankings.
About the Department of Computer Science at Purdue University
Founded in 1962, the Department of Computer Science was created to be an innovative base of knowledge in the emerging field of computing as the first degree-awarding program in the United States. The department continues to advance the computer science industry through research. US News & Reports ranks Purdue CS #20 and #16 overall in graduate and undergraduate programs respectively, seventh in cybersecurity, 10th in software engineering, 13th programming languages, data analytics, and computer systems, and 19th in artificial intelligence. Graduates of the program are able to solve complex and challenging problems in many fields. Our consistent success in an ever-changing landscape is reflected in the record undergraduate enrollment, increased faculty hiring, innovative research projects, and the creation of new academic programs. The increasing centrality of computer science in academic disciplines and society, and new research activities - centered around data science, artificial intelligence, programming languages, theoretical computer science, machine learning, and cybersecurity - are the future focus of the department. cs.purdue.edu

See Purdue University's press release
Last Updated: Sep 12, 2022 10:56 AM