Through a CRA Fellowship, a systems researcher persists with research in designing secure browsers 
11-24-2021
Dr. Tapti Palit is one of the 69 awarded 2021 CIFellows. She is a systems postdoctoral researcher at Purdue University's Department of Computer Science. Her research lies at the intersection of software security and program analysis.
With academic job searches impacted by the pandemic, newly minted PhD systems researcher, Dr. Tapti Palit, continued her work as a postdoc – pursuing her research at the intersection of software security and program analysis.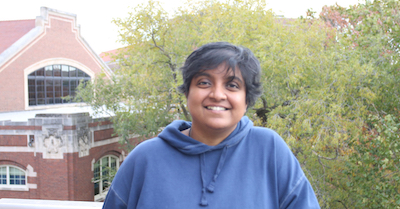 "I investigate the challenges in accurately analyzing large C/C++ codebases with the goal of retrofitting them with software defenses," said Dr. Palit. She added, "I chose Purdue CS because of the research conducted by Professor Pedro Fonseca and his team in the Reliable and Secure Systems Lab."
Pedro Fonseca, Assistant Professor of Computer Science is hosting Dr. Tapti Palit during her postdoctoral research at Purdue's Department of Computer Science. 
"We are thrilled to have Tapti join our group," Fonseca said. "Her extensive experience in system security and program analysis will be instrumental to the success of several projects in the Reliable and Secure Systems Lab."
"Tapti is working on some of the hardest system security problems," Fonseca contributed. "Her work on improving the security of web browsers targets enormous and complex systems to make them safe against a range of attacks."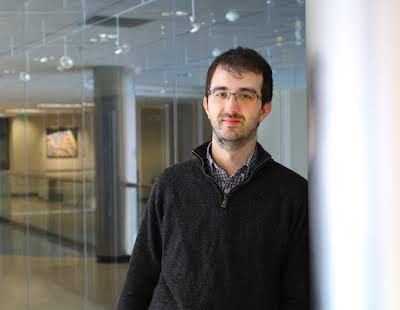 "My work with Professor Fonseca deals with two subproblems related to software defenses," said Palit. She added, "We're working on building scalable analysis frameworks for the Linux kernel to facilitate bug detection. Additionally, we are investigating the problem of automatic privilege separation in web browsers such as Google's Chrome browser through fast and precise program analysis."
Fonseca added, "Ensuring browsers are safe and secure is an important task. We already have several ideas under development, and we are actively working with our industry partners to build practical solutions."
"If Tapti is successful, the impact of her work will be significant — millions of users and businesses trust web browsers daily with their sensitive data, especially now that so many activities have shifted online due to COVID restrictions," Fonseca said.
Palit's work is supported by the CIFellows program, created by the  Computing Research Association (CRA) and the Computing Community Consortium (CCC), with strong support from the National Science Foundation (NSF). The CIFellows program was created to provide support for those computing researchers whose job search was impacted by the pandemic.
"Additionally, I'm also excited to work with Tapti on developing the best practices for postdoc mentoring," Fonseca said. "When I was a postdoc, together with a group of faculty and other postdocs, we worked on a CRA-funded program to establish a best-practices mentoring program framework. Tapti and I will be working on implementing and expanding these efforts in our lab and at Purdue."
More information is available about the Computing Innovation Fellows program.  The 2021 class of CIFellows has 69 diverse researchers covering a broad range of areas in computing. The cohort is 52% women, come from 49 universities, and will be beginning their CIFellowships at 48 different universities. 
The CIFellowship is a unique opportunity for both the CIFellow and their faculty mentor, as it provides the CIFellow with the opportunity to do their own research as a postdoc, with their own funding, while being mentored and contributing to ongoing work. In addition, the CIFellow is part of a cohort of CIFellows, and able to participate in cohort building activities to help develop their network and engage with others in computing. 
Dr. Tapti Palit earned her PhD in Computer Science from Stony Brook University, SUNY in 2021. Her research is titled, "Towards Secure Browsers.'' Her CIFellowship Research Project will explore various novel static analysis approaches to facilitate efficient and fine-grained privilege-separation in web browsers and other Javascript and Web Assembly environments.
About the Department of Computer Science at Purdue University
Founded in 1962, the Department of Computer Science was created to be an innovative base of knowledge in the emerging field of computing as the first degree-awarding program in the United States. The department continues to advance the computer science industry through research. US News & Reports ranks Purdue CS #20 and #18 overall in graduate and undergraduate programs respectively, ninth in both software engineering and cybersecurity, 14th in programming languages, 13th in computing systems, and 24th in artificial intelligence. Graduates of the program are able to solve complex and challenging problems in many fields. Our consistent success in an ever-changing landscape is reflected in the record undergraduate enrollment, increased faculty hiring, innovative research projects, and the creation of new academic programs. The increasing centrality of computer science in academic disciplines and society, and new research activities - centered around data science, artificial intelligence, programming languages, theoretical computer science, machine learning, and cybersecurity - are the future focus of the department. cs.purdue.edu
Writer: Emily Kinsell, emily@purdue.edu
Sources: Tapti Palit, tpalit@purdue.edu
Pedro Fonseca, pfonseca@purdue.edu
Last Updated: Nov 29, 2021 8:44 AM