Real-life success story parallels that of 'Queen's Gambit' character
12-17-2020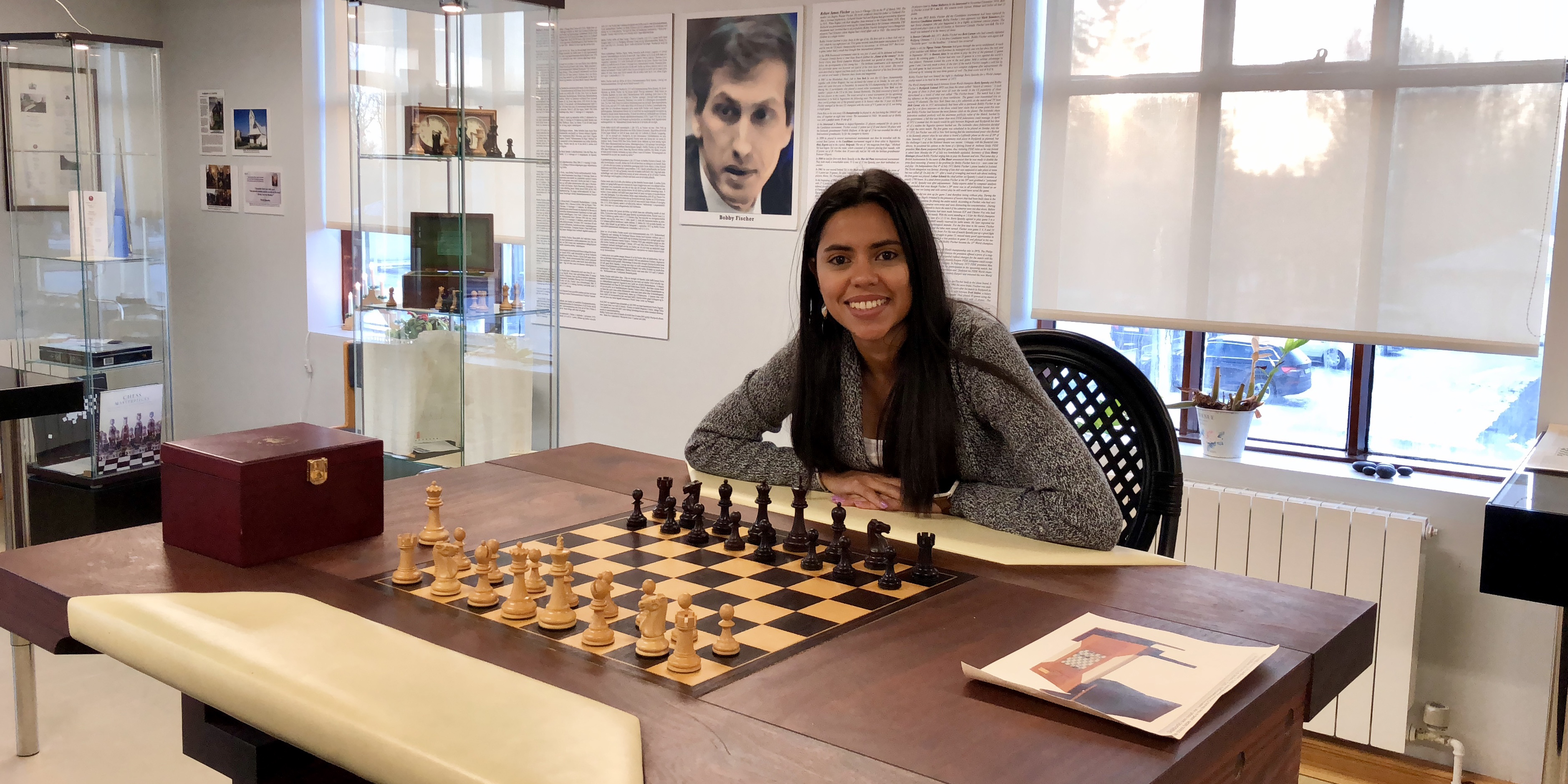 A series of moves led a teenage chess star from Colombia to become an Apple software engineer, with a boost from Purdue along the way.
WEST LAFAYETTE, Ind. — She grew up in an economically depressed area, became a teenage chess star, and traveled the world as an international chess woman grandmaster.
Now she is a senior software engineer at Apple.
This isn't the story of the fictional character Beth Harmon from "The Queen's Gambit," but rather of Nadya Ortiz, who received a master's degree in computer science from Purdue University in 2014.
And although Ortiz's story doesn't have the pathos of Beth Harmon's, it is every bit as inspiring. Her story, she says herself, is one of persistence.
As another chess grandmaster once said, no one ever won the game by resigning.
Streaming on Netflix, "The Queen's Gambit" became the surprise global cultural television touchstone of 2020. The story of an orphaned girl who rises to become a world chess champion seems like an unlikely premise for what is at its core a sports movie. The program was the No.1 show in 63 countries, and in the top 10 in 29 more within a month after its October release.
In some ways, the story of Ortiz parallels that of fictional Beth Harmon. Both came from less-than-privileged backgrounds, Harmon in rural Kentucky and Ortiz in Colombia. Both endured discrimination by being women in a male-dominated sport. Both became national champions and went on to become professional chess players traveling through Europe at a young age. There was one minor difference: Ortiz says her tournament attire would not have been considered high fashion.
"In terms of the clothing, that's more fictional. As you can imagine, chess players are more on the nerd side," she says with a laugh.
Ortiz is a fan of the program because it triggered worldwide interest in the game. She also appreciates the care the filmmakers took to faithfully reproduce the action on the boards.
"As a chess player I was amazed at how the chess positions were so accurate. I would pause the show and look at the player's move and ask, 'Is this correct?' As a professional chess player, I was really amazed to see such brilliant positions. You know [former world champion] Garry Kasparov was a consultant, and the chess moves were real. I liked that."
Ortiz learned the game from her chess-enthusiast father, she says, when she was 6 or 7 years old. She grew up in the city of Ibagué, in the center of the country in the Colombian Andes, an economically depressed region where the average annual income is less than $5,000 U.S. per year.
"Like in many other poor areas of the world, sports is one of the few economic opportunities, so my parents encouraged me to see chess more as a sport, an opportunity," Ortiz says. "And when I was a teenager, I wanted to just play chess, and that meant I needed to be out of Colombia. And you can imagine the tension that caused with my parents.
"But even though I grew up with all of these economic and social challenges, my parents had given me core values. And they supported me."
By age 14, she had become the national champion of Colombia. At 16, she won the Central American Championship in Barbados. Soon, while still a teenager, she was a professional chess player, playing on an international stage. Eventually she competed in more than 30 countries, becoming an international woman grandmaster at the 2010 World Chess Olympiad in Khanty-Mansiysk, Russia.
"I played tournament after tournament. I was in heaven," she says. "After four years I didn't have the world title. But I was like, that's it. I tried."
Her life took a turn when at age 20 she received a surprise offer from Juliet Garcia, the president of the University of Texas at Brownsville (now the University of Texas Rio Grande Valley). The university sits at the southernmost tip of Texas, in an area with one of the highest poverty rates in the United States. Garcia wanted to form a university chess team, in part as a means to help the children of the area become more engaged with their education, and she wanted a woman on the team. Garcia offered Ortiz a chess scholarship, but something was blocking her next move.
"It was a dream," she says. "I wanted to study. I wanted to play chess. But I didn't speak English."
She asked if she could delay her start at the university by six months, and she spent the time learning the language.
"I passed the English admission exams, but when I arrived, I could barely understand the instructors in my classes. But I love math, and so for the first two years I mainly took math classes and continued to learn English. Then, I began studying computer science. It's about reasoning and implementing, and in that way, it is like a kind of game."
She graduated summa cum laude but was concerned that she would not be able to get the job she dreamed of with just an undergraduate degree from a small, largely unknown college. Her chess coach at the time was an international grandmaster, and he mentioned that he had met people around the world who were Purdue graduates and that the university seemed to have many international students. Ortiz applied and received a scholarship to work on a master's degree in computer science.
At Purdue, she quickly began to fear that she was in over her head; her classes were more rigorous and competitive than her undergraduate classes. After her first exams, she began to panic and thought she might lose her scholarship.
She was able to recover, thanks to the encouragement of her advisor at Purdue, Jan Vitak, who now is a professor of computer sciences at Northeastern University, whom she calls "my angel."
"I went to his office, and I told him, 'Professor, I study Monday to Monday without a break. I'm afraid I'm going to lose this scholarship.' He told me, 'Look, we believe in you. That's why we gave you this scholarship. If you keep working, your knowledge will accumulate and you will catch up and be fine.'
"I learned you can be in an amazing program and super smart, but you still need that humanity, and I found that at Purdue."
After Purdue, Ortiz next move was to head to Apple Inc., where she now works in machine learning and data science.
She makes sure to mention the advice and support she received from her parents, her coaches and her professors. She now passes on her life lessons in part through a program in her hometown where she sponsors an instructor to teach chess in two schools.
"It's small, but the goal is to expand and promote chess in the schools," she says. "Not as a sport or competitive chess, but using chess as an educational tool, especially in low-income areas. I really hope the current spike of interest in chess will help to promote the game and support chess in schools around the world."
When asked what advice she might have for young people who consider her a role model, she refers to the lessons she learned as a competitive chess player.
"Persistence, perseverance and hard work," she says.  "These have been major qualities I have cultivated throughout the course of my life, and try to do so every day. Having persistence to accomplish the goals, persevering when the situation is not ideal and working hard regardless of the situation have helped me to keep fighting for my dreams."
About Purdue University
Purdue University is a top public research institution developing practical solutions to today's toughest challenges. Ranked the No. 5 Most Innovative University in the United States by U.S. News & World Report, Purdue delivers world-changing research and out-of-this-world discovery. Committed to hands-on and online, real-world learning, Purdue offers a transformative education to all. Committed to affordability and accessibility, Purdue has frozen tuition and most fees at 2012-13 levels, enabling more students than ever to graduate debt-free. See how Purdue never stops in the persistent pursuit of the next giant leap at https://purdue.edu/.
Writer, Media contact: Steve Tally, steve@purdue.edu, @sciencewriter
Source: Nadya Ortiz
Journalists visiting campus: Journalists should follow Protect Purdue protocols and the following guidelines:
Campus is open, but the number of people in spaces may be limited. We will be as accommodating as possible, but you may be asked to step out or report from another location.
To enable access, particularly to campus buildings, we recommend you contact the Purdue News Service media contact listed on the release to let them know the nature of the visit and where you will be visiting. A News Service representative can facilitate safe access and may escort you on campus.
Correctly wear face masks inside any campus building, and correctly wear face masks outdoors when social distancing of at least six feet is not possible.
Last Updated: Dec 17, 2020 11:05 AM